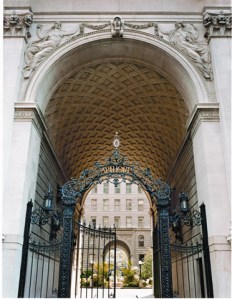 Lesson of the day: don't mess with the Attorney General, he won't take kindly. Apparently the posh Upper West Side condo The Apthorp is at the receiving end of the AG's wrath, The Real Deal reports.
The building is in hot water, scalding in fact, after developers reportedly made false statements to the Attorney General's office. Here's the situation: last February, the Apthorp's developers filed a statement with the Attorney General claiming that the Anglo-Irish Bank's decision to sell their $350 million mortgage loan would not affect sales in the building. In September, however, the developers sued the bank with the exact opposite claim, alleging that selling the building's loan would be disastrous and potentially fatal to ongoing projects.
Attorney General Eric Schneiderman  did not take the apparent deception lightly. In late September he demanded that all sales at the Apthorp be halted and levied a $190,000 fine on the developers. According to The Real Deal, a settlement was reached yesterday which appeared to resolve the situation… for now.
The developers, without admitting nor denying the allegations, will offer contracted buyers a 15-day window to get their deposits back. They will also wire $190,000 within the next few days to the AG, who will upon receipt, allow the sales office to open back up. According to Streeteasy.com, the Apthorp has 42 recorded sales and three listings under contract.
This is just the latest in a series of controversies that have plagued the luxury building in recent years. Who knows how long the beleaguered Apthorp will stay quiet this time.