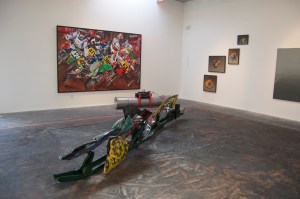 "Hollywood is so much sexier than the art world," Berlin-based art dealer Javier Peres was telling The Observer. "There's much more hype, there's more cash flowing at it. The art world in Los Angeles has always competed with Hollywood, and it's always been a tough struggle."
We were speaking with Mr. Peres in the convention center in downtown L.A. that last week housed the brand new art fair Art Platform Los Angeles, a venture of Merchandise Mart, the same company that owns New York's Armory Show. It was the opening day of the fair, and Mr. Peres was exhibiting there; visitors were pouring through the doors at a steady clip. Meanwhile, the well-funded Getty Foundation was opening "Pacific Standard Time," a series of exhibitions on postwar California art that spans scores of museums and commercial galleries and runs for the next six months.
It looked like art might be giving Hollywood a run for its money. Or, at least, that's what a group of New York dealers setting up shop here are hoping.
Last September, L&M Arts, run by veteran dealmaker Dominique Lévy and Robert Mnuchin, a former Goldman Sachs partner in a stately Upper East Side townhouse, settled into two buildings in Venice, minutes from the Pacific Ocean. Tech mogul Tim Nye just christened a gallery in Culver City, home to many of the area's most prestigious galleries. Perry Rubenstein, who decamped from New York in March, is promising an ambitious Hollywood space in early 2012, and, after two years of rumors, Chelsea mainstay Matthew Marks announced he's at work on a building in West Hollywood.
Historically, New York galleries that have opened in L.A. have crashed and burned. In the 1990s, Pace, BlumHelman and Luhring Augustine, the latter working with German dealer Max Hetzler, all opened spaces, and all of them shuttered in less than five years, hurt by economic crises and unable to build a sufficient collector base. Only Larry Gagosian—who had deep roots in the area and who opened in Beverly Hills in 1995—has successfully bridged the divide.
Will this time be different?
Mr. Peres had advice for the newcomers. "They really like you to be here," the bearded and boisterous dealer told us. He opened in L.A. back in 2003, but closed his gallery in the Culver City district last year to focus on Berlin. "I was always nomadic. People would come to the gallery and say, 'Oh, Javier's not here. Fuck.'"
Though L&M's principals are staying in New York, they hired an L.A. veteran, Sarah Watson, to run the Venice branch. "What Bob and Dominique realized was that if they wanted to open a space here, they needed to get someone who had been here for a number of years, who knew everybody," Ms. Watson told us in her office last week. "People are protective. Everyone's known each other for a really long time. It's a very small community."
The pair acquired a lot with a 1920s power station and hired Kulapat Yantrasast of WHY Architecture to build a separate second space on the property, the onetime site of science-fiction author Ray Bradbury's home. Visitors walk outside to move from one building to another.
A Liza Lou fabric painting hung behind Ms. Watson's desk, and the surrounding space held a Paul McCarthy sculpture, a Sam Francis painting and a series of photographs by John Baldessari—artists from different generations who all have deep ties to Los Angeles. The gallery's youngest star, Jacob Kassay, is moving to the area. "I have my own little Pacific Standard Time here," Ms. Watson said, laughing. "It's not intentional, actually."