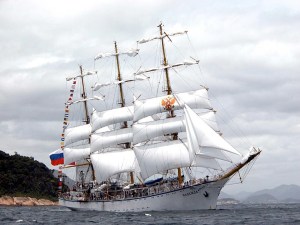 On Friday, Russia ordered one of its ships used for military training purposes, the Nadezhda, not to make a scheduled landing in San Francisco, citing Russia's ongoing dispute with the Brooklyn-based Jewish sect Chabad, which has led to an embargo on objects loaned between Russian and U.S. museums. The San Francisco Chronicle reported that Russian Consul General Vladimir Vinokurov attributed the change in orders in the landing, which had been scheduled as part of a good will tour, to "a long problem" involving Chabad's claims.
Ironically, the incident comes close on the heels of Chabad's latest tactic: attempting to start negotiations. After seven years of hard-fought litigation in the federal courts that resulted in a default judgment in its favor and a Russian embargo on lending art to U.S. museums, the sect now says it wants to try talks with the Russian government.
The default judgment, issued in July 2010, ordered Russia to turn over to Chabad a library and archive of religious books and manuscripts that the group claims Russia wrongfully took from it. Russia had abandoned the case, stating U.S. courts had no jurisdiction over it, and it termed the judgment illegal.  Soon after the judgment was issued, Russia imposed its art embargo, saying it feared Chabad would seize any art on loan in the U.S. to enforce the judgment.
The embargo has affected U.S. museums nationwide, and in July the Metropolitan Museum cancelled a planned loan to the Kremlin Museum in response.
Chabad's motion to begin enforcement proceedings was granted in July with the express proviso–added at the request of the U.S. government–that Chabad would not attempt to attach any art that was protected from seizure by federal statute. Last April Chabad also requested that monetary sanctions be imposed against Russia, and that motion has not yet been decided.
Earlier this month, the group's approach changed. In an Oct. 19 filing in District Court in Washington, D.C., Chabad did what seemed to be an about-face.  The filing states that Chabad wants to try "to commence negotiations with the Russian Government."  Chabad therefore requested that the court hold its motion for sanctions in abeyance for 60 days and it also stated that it would not seek to attach any Russian property during that period.
What has caused Chabad's 180-degree turn?
Authorities agree that Chabad's judgment is unenforceable in Russia, and it's questionable whether it's enforceable in the U.S. either.
On the other hand, there is a procedure by which, under Russian law, Chabad could pay Russia for some of the property it seeks–the archive that was taken from the Germans during World War II but not the library that was nationalized after the Russian Revolution, the latter being sacrosanct patrimony in Russia–if it goes through U.S. government channels.
Chabad had decided not to take that route because, it has been suggested, it didn't want to give up its claim to the library. Is Chabad now willing to settle for less than all of what it wants, given the difficulty of enforcing its judgment?
The sect's latest move and Russia's cancellation of the docking of the Nadezhda comes at a time when the U.S. and Russia are again butting heads diplomatically–they recently exchanged blacklists of officials who will not be issued visas because of the death of a whistle-blower in a Russian prison.
Calls to Chabad's lawyers were met with a "no comment."