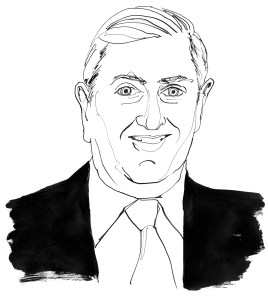 Last month, CB Richard Ellis Investors sold its remaining 51 percent stake in 1540 Broadway, the iconic, 42-story property also known as the Bertelsmann Building. For the buyers—Edge Fund Advisors and HSBC Alternative Investments Limited—the deal marks the final chapter in an acquisition grab that began last year when the joint venture took a 49 percent nonmanaging member stake. Mark Keller, Edge's chief executive and chairman, spoke to The Commercial Observer about the investment strategy and plans to expand his company's reach from the nation's capital to the Big Apple.
The Commercial Observer: Considering how prestigious 1540 Broadway is, the deal closed rather expediently, no?
Mr. Keller: It was an interesting effort. It was the rare transaction where you have a sizeable deal and it's happening in two phases, plus a refinancing, all over a nine-month period of time. So when you add up all the dollars that went back and forth, it was a rather large transaction.
Was the decision to buy CB Richard Ellis Investors' remaining equity interest something that had been discussed when Edge and HSBC Alternative Investments Limited bought its initial 49 percent ownership stake, or did the sales opportunity take you by surprise?
We built rights into the relationship, obviously, so all the parties had various rights with regards to the building. If you wanted to sell your interest the other party would have the right of first refusal, and so all those rights were built in. However, we had anticipated that, through those discussions, we wouldn't really see that day until some time in 2013. We figured we'd have to refinance the loan in 2013 because it had a one-year extension option on it that was expiring in basically 2012.
Had you been familiar with 1540 Broadway before the 49-percent acquisition last year?
I knew the property when [Harry] Macklowe was trying to sell it, and I was really jealous when CBREI picked it up at that price [ed. note: $355 million]. I always thought that was a great transaction. And when we got wind that CBREI was thinking about bringing in a partner, not only did I already know the property, but I had a lot of respect for it—the location, the architecture and even the vacancy. It was really great vacancy if there can be such a thing.
Conventional wisdom is that "no vacancy is good vacancy." What, exactly, do you mean?
The space was gutted. The owners had removed all the old improvements so it was right down to the skin and we could offer prebuilt and custom build-outs. Obviously, sometimes you have tenants who want to move in immediately, and that's why we did the prebuilt suites. But, for the most part, a good-size tenant wants to have its own space, and not some space that has dated T.I. and was lived in by someone else. It's hard to lease that.