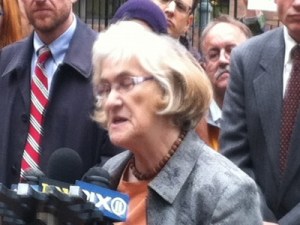 When Erica Lefevre took the microphone outside One Police Plaza at a press conference shortly after noon today, the clearly stricken woman spoke first about what a talented artist her son had been, and how he had left his native Canada to make an impact on the art world of New York City.
"His work is in museums in Toronto and his native home of Montreal," she said, her voice trembling with a mix of pride and sadness, knowing he would never paint again.
While riding his bicycle home from his studio last Wednesday night, 30-year-old Mathieu Lefevre was struck by a truck and killed on the corner of Meserole Street and Morgan Avenue in Bushwick. The driver, who apparently claims not to have seen or known what was happening and will not be charged in Lefevre's death.
Other than that sketchy information, Lefevre's parents and his ex-wife Juliana Berger, have no knowledge of what occurred, and after a week of questions to the NYPD they have had no further answers, or solace.
"What compounds this tragedy is a failure to get information from the police about what happened to our son," said Ms. Lefevre.
As a rule, ad hoc press conferences planned by community groups, and conducted outside the headquarters of powerful entities are disorganized, sparsely attended and lack the impact that they want so desperately to deliver. It's just another sad fact of the "You Can't Fight City Hall" reality of life. Today's event was a strikingly different matter.
Transportation Alternatives, the bike-friendly advocacy group led by Paul Steely White, had convened the meeting to take Police Commissioner Ray Kelly, and to a degree his boss, Mayor Michael Bloomberg, to task. In the case of Lefevre, and countless other pedestrians and cyclists killed by motor vehicles, the Police Department has given the drivers a free ride. Lefevre's case has already been closed, with all a charges dropped. A cover story from the Voice in August, of a woman nearly killed in Greenpoint also comes to mind.
"In some cases it's taken up to 10 months or more to get the police to share their findings," Steve Vaccaro, an attorney who volunteers for TransAlt, said.
But there is a problem of contradictions here. On the days Mr. White and company are not attacking the administration, they are praising it for its cycling and mass transit campaigns, for its new bike lanes, the rise in ridership, the declines in accidents. Mayor Bloomberg is at once too bike friendly and not bike friendly enough. The advocates want a zero-tolerance policy even as they themselves no zero accidents are an impossibility. He called Ray Kelly, of all things, "soft."
That is what made Ms. Lefevre so important. Where condemnations came to nothing, she brought the crowd to angry tears.
In fact, as soon as the victim's mother took the microphone from Mr. White and asked the NYPD for answers to the question of how her son was killed, the entire event seemed to shrink immediately from the meta concerns of proper law enforcement to the Kafka-esque episode inside which Lefevre's survivors currently exist, hundreds of miles from home.
What struck The Observer as most bizarre and disquieting, was a comment made by Ms. Lefevre that at first seemed to be a throwaway from a woman under the pressures of grief and stress.
Apparently, despite numerous requests, the helmet Lefevre wore on the night of his death has not been returned to his family, and the NYPD apparently has no plans to do so. A woman who is hosting the Lefevre family at her home confirmed to The Observer that this is indeed the case and Mr. Lefevre's bicycle was also still in the police's hands—despite the case being closed.
Even if the family cannot get answers from Ray Kelly and the NYPD, do they not at least have the decency to return his things?
tmcenery@observer.com