It was with mixed feelings that The New York Observer went to a casting call for extras on Christopher Nolan's grand finale of the Batman films, The Dark Knight Rises. On the one hand: it was Saturday afternoon, and Occupy Wall Street protesters were preparing to gather near the Brooklyn Bridge in preparation for their doomed march. On the other…we really wanted to be in a Batman movie. Even if we weren't exactly what the Warner Bros. people had in mind when they put out this casting call last week:
Grant Wilfley Casting, Inc. is casting extras for the new Warner Bros. film Magnus Rex. Producers state: "Take part in the urban action adventure coming to the streets of New York City." Shoots Oct. 29-Nov. 11, 2011 in NYC.
Seeking—Extras: male and female, 18+, all ethnicities, no experience necessary, to play law enforcement within a city besieged by crime and corruption, specific roles include Guards, Soldiers, and Police Officers, seeking physically fit athletes, people with military and/or law enforcement training/experience, weapons training, and/or martial arts training.
Open call will be held Oct. 1, 10 a.m.-1 p.m. & 2-4 p.m. at Metropolitan Pavilion, 110 W. 19th St. (btwn. Sixth & Seventh aves.), NYC. Bring photo ID (i.e. driver's license, state ID, student ID, etc.); talent must be able to provide valid unexpired ID to fill out I-9 at time of hiring. Seeking nonunion talent at this call; SAG members who are not already registered with GWCI should also attend the open call. For more info (including time/location details for SAG registration), visit www.gwcnyc.com or call (212) 685-3168. There are no sign-up fees. Professional pay provided. SAG Background Actors Contract.
Full disclosure: We do not look like guards, soldiers, or anyone with military experience. However, logic would follow that the reason Gotham is so messed up and Arkham Asylum patients can walk out into the streets any time they damn choose is because there are a couple weaklings hiding amongst the city's finest. It's with this mental attitude that we showed up, ID in hand, to the Metropolitan Pavillion at 2 p.m.
We didn't know what to expect. A lot of brawny guys who were looking for work now that Law & Order officially doesn't need more patrolmen? A bunch of comic book geeks? Or, option number three: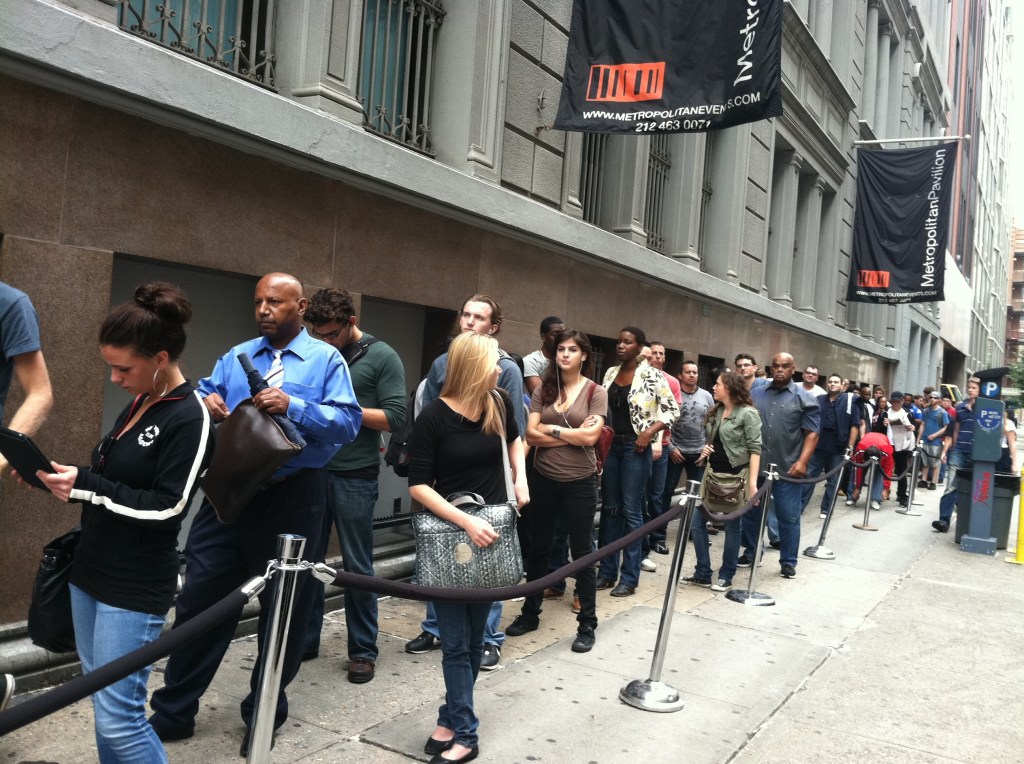 Total chick-fest! Apparently we weren't the only women who decided that their lack of receding hairline and bury demeanour should exclude them from being thwarted by insane people in crazy outfits. In fact, wouldn't women be more supesceptible to the charms of Thomas Hardy as Bane?
In the spirit of good citizen journalism, we got in line and found 2o-year-old Sam Sandak (that's him with the tattoo), a Tisch student did extra work to raise money for his film. "I'd be in this for free though," Mr. Sandak told us, "Chris Nolan is the fucking man." The young Los Angeles native had experience with Central Casting on West Coast, he informed us, and had already been in the background of several features, including the HBO film, Cinema Verite.
"Usually if you're an extra, they keep you sort of netted off from the talent," Mr. Sandek told us, "It's a lot of waiting around." That was fine. People who have been occupying Wall Street these past to weeks know that sometimes you wait around in a netted area for hours and don't get paid at all. (Unless pepper-spray can now be traded for goods and services in this country. Which it can't. Yet.)
The line moved relatively quickly and were were soon seated in the back of a room full of folding chairs. Each chair had a form to fill out containing our necessary stats. It was surprisingly hard, as we had no idea how our bust size differed from our bra size. We made a bunch of the numbers up, actually. Please don't think that we actually know what our waist to hip ratio is.
The people in charge of the casting cattle call got things rolling right off the bat. "Who here has any military training?" they asked. A few big men raised their hands.
"Police training?"
A lot more hands were raised. (Wow, seriously? What were they doing auditioning for movies?)
"Any firemen in this crowd?"
No hands were raised. Those gifted with army or police experience got to go over to a special table and have their photo taken. The rest of us had to wait. We turned to the couple next to us: a striking boyfriend/girlfriend couple that looked super buff. Robert Buesing was a 6'4 Wall Street finance guy who rowed in his spare time. His girlfriend, Jessica Kopcho, was 5'11, also a rower, and played soccer for fun when she wasn't working for her post-back laureate in medicine. It was a first time casting experience for both of them. We doubted that they had ever read Frank Miller's Dark Knight graphic novels, although Mr. Buesing did laugh at our joke about the dour faces the former military/policemen were making in their photos: "Why so serious?" This is them, by the way. Look for these two in the big climax of the new Batman film where a bunch of stuff blows up and everyone goes running.
Other things heard at the casting call:
Girl with a shaved mohawk one row behind us, with evident pride): "My friend was an extra in Waterboy."

Blonde chubby woman woman sitting near the front: "After this I'm going to the Strand and applying for a job."

Buff Latino man several chairs down: I heard Cillian Murphy is going to be in this. Do you think I can tweet about that, or is that against the rules?
Finally, it was our row's turn to get our photo taken. We tried to look tough. Snap, snap: we had two seconds in front of the camera before the next person was ushered in. Now we know what the term cattle call referred to; we felt like a piece of meat. That is until we heard the casting lady ask the photographer as we were leaving to read out our number for her to circle on her sheet. Her special sheet of people that were definitely going to be cast in Christopher Nolan's The Dark Knight Rises to then be picked out of the swarms of extras for a speaking part, before rising to stardom following a brief affair with Joseph Gordon-Levitt. You know, that sheet.
As we were leaving we expected to see another line trailing out the door. But it had started to rain, and apparently that's enough to persuade even the most hardcore superhero fans to stay indoors and rewatch the Iron Man movies instead of auditioning for the coolest thing ever.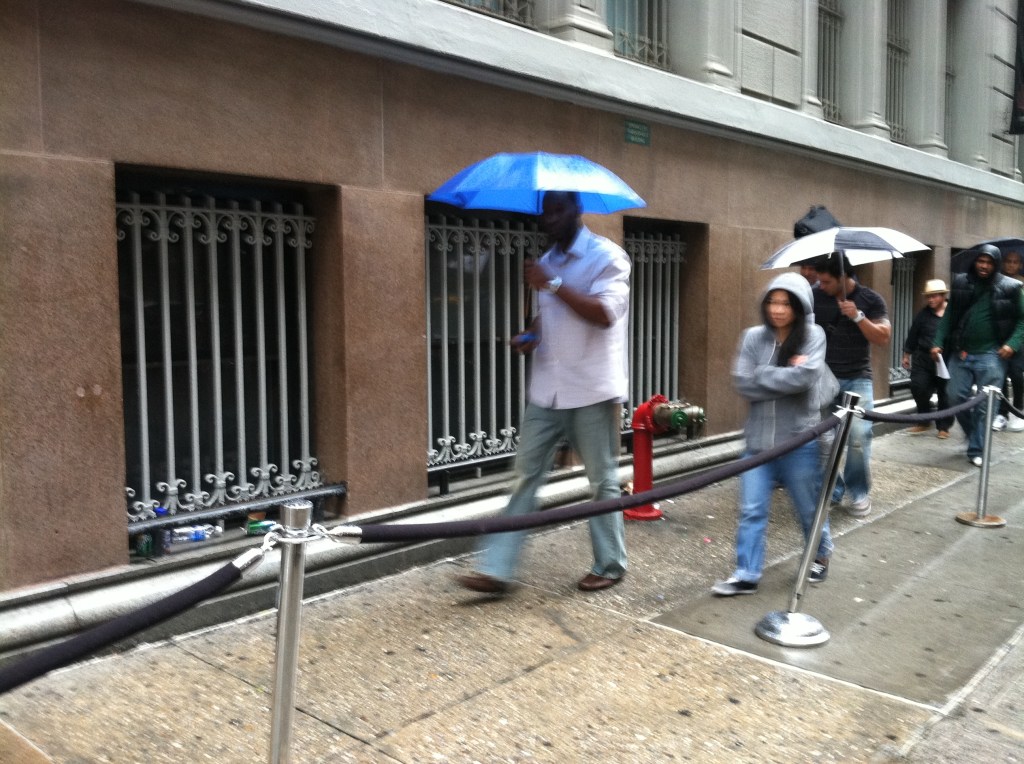 However, we did talk to some New York Film Academy students on our way out. They weren't here to audition, but wanted to see if they could find someone to fill in for a missing actress in their movie. We considered for a moment…but it was raining. Even Bruce Wayne takes a day off for inclement weather, right?