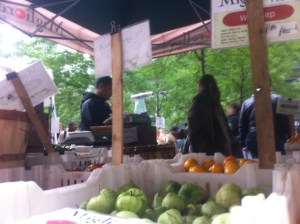 LIKE THE PROTESTORS OF OCCUPY WALL STREET, they don't find themselves in the Financial District as much as those who live there, or those working there on a daily basis, at least before this all started. Unlike the Occupy Wall Street protesters, they knew where Zuccotti Park was before all this started. Lined up on the southern side of park, on Cedar Street between Broadway and Trinity Place, one of the Financial District's two sparse farmers' markets have a new scenery in front of them to take in.
"But I just, I hate walking through them." A tallish, well-heeled woman in wire frame glasses is taking a bag of apples from one of the men working the stand of  Tivoli, New York's Migliorelli Farm outpost, parked on Zuccotti Park every Tuesday, like the others.
Migliorelli is, like the other two farmers' market vendors representing their wares at Zuccotti, one of the larger and more ubiquitous stands in New York markets. And yet, their biggest days are Saturdays, when they employ twelve stands around New York.
When asked how business is doing, the older Asian gentleman working the stand looks out at the protesters, and then waves his hand from side to side. "Up, down, but no," he looks back at the apples, "no increase in sales."
Eying some of their bright, sprightly produce, The Observer attempts to identify some sungold tomatoes, and gets them wrong. "Nope," he points to one box, "these are them, the last of them. They're out of season, now." As we walk away from the Migliorelli stand, the man behind the counter recognizes a friend, a fellow vendor. "We are 99 percent!" he laughs as he shakes his hand, and they both look at the crowd, likely echoing something he's heard quite a few times over the last three Tuesdays.
– – –
Fifteen minutes before, we stood on the northern edge of the park next to two men in suits, checking their Blackberrys and taking in the scene. When we asked them what they did, they eyed us warily, and like most of those spoken to on the protest's periphery, were more than reluctant to be identified. "I used to work for a hedge fund," one of them— who we'll call 'Sal'—noted, "and I guess you could say we work at a bank," but after a few laughs, relented a little.
"Look at all this free shit," Sal exclaimed, as someone unpacked a bottle of water and what appeared to be tarps in plastic bags. "Poland Spring water. Campbell's Soup. Don't they know…" he trails off.
We inform him that many a protestor have taken to McDonald's as an impromptu rendezvous point. "Which one? Are you shittin' me?" Sal slaps his forehead as they continue to check their Blackberrys.
His colleague—who we'll call Hal—is an the larger of the two, an African American man with a slightly southern-tinged accent. He shuffles his feet when asked about his shined, latte-colored shoes. "Thom Browns, but don't tell them that," as he motions to the protestors.
"You see this?" Sal hands his BlackBerry over to his colleague.
"Yeah, I just got it, too."
"But whatever, you know, it's like—"
"You keep that shit up, you're gonna get fired."
"Shit, man." Sal looks out at the encampment, as I suggest an alternative to them: occupying the Metro North train. He laughs. "Holy shit, that'd be amazing. I had the worst commute last night, I forgot my monthly, didn't have cash, had to get off the first one and hop on the second. I pretended to be asleep." He and Hal briefly debate the legality of Occupy Metro North versus the legality of occupying Zuccotti Park, "but damn, man," Sal laughs, "I should just stay here. It'd save me ninety minutes a day, that's for sure."
"How long you think they can last here? It's gonna get cold soon," Hal offers. "I just wish Bill Gates would show up and throw a million bucks in the air." Or Warren Buffett, we suggest. "Yeah, definitely Buffett. He's into that now, right? Let him help the cause."
– – –
Back on the other side of the park, we moved on to the next stand: Kingston New York's Meredith's Bread, which wasn't as well attended to as the Migliorelli outpost next door. Meredith's has been around in Kingston since 1987, and according to their website, "Our biggest following has been a direct result of the 44 farmers markets that we attend weekly located in Manhattan, Westchester, Rockland, Orange and Albany Counties."
When asked about the sales over the purchase of a bran muffin, she looked up, then thought, "Today, little better"—she makes the 'small' sign with her index finger and thumb—"last week, no." She rings up the muffin for two dollars, and puts it in a plastic bag. Some tourists carrying shopping bags come by in my wake, staring at the bread loaves. What do you think of your neighbors? one asks. "Neighbors?" She laughs and looks down.
– – –
The third farmer's market stand is Red Jacket Orchards, likely the largest of the three. Red Jacket distributes their juices to restaurants and delis across New York, and is as ubiquitous as a farmers market stand in New York can be: they have seven different farms over 600 acres of farmland in upstate New York. As the older Asian man rang up a smaller apple—$.35—he shrugged when asked if his sales were up. "Not really," he said, turning away to other customers.
The last vendor we spoke with was one of the many carts parked on Zuccotti's perimeter every Monday through Friday; his was the basic, New York City hot dog cart. The others ranged from vegetarian falafel to Japanese bubble tea and smoothies to Halal Meat. He was speaking with a "white shirt" from the NYPD: "..and they're all veeegans!" We asked him if he had seen any uptick in sales, and received what seemed to be the consensus: "No, none. No more money." The white-shirt declined to participate in the conversation, though he did smirk at what came next: "But except for tourist. Tourist always buys. They," he pointed towards the crowd "have their own food."
fkamer@observer.com | @weareyourfek