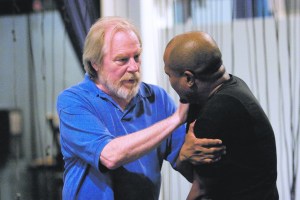 In 1979, when he was 32 and appearing on television every week as Lenny, Laverne and Shirley's dopey neighbor, Michael McKean first read King Lear. He had just started wearing glasses, and, one morning, he reached for his copy of Shakespeare's complete works.
"I said, 'Now that I don't get a headache from reading anymore, I'm gonna sit down and read every fucking play in this book,'" he remembered last week, when The Observer spoke with him over ham and cheese on rye at the offices of the Public Theater. "And I read King Lear, and I said 'Oh, my god! This is awesome!'"
Next Tuesday, Mr. McKean, who is perhaps best known for his role as David St. Hubbins in the 1984 spoof rock 'n' roll documentary This Is Spinal Tap, begins the Public's one-month run of King Lear, with Sam Waterston as Lear. He plays Gloucester, an earl whose treasonous son costs him his eyes. A comic actor with a short Shakespearean résumé, Mr. McKean may seem an odd choice for the Public's marquee fall production, but the theater has full confidence in him. With his thick blond-and-gray beard and steel-cut middle America accent, he comes across as a quintessential American dad. And that's exactly what Oskar Eustis, the Public's artistic director, had in mind.
"If you were running home from school after a terrible day, this is the guy you'd wanna run home to," Mr. Eustis said. "This is the dad right out of Father Knows Best."
Mr. McKean, who was born in New York and raised on Long Island, had his first Shakespearean turn in 1965, when, rather than watch Dylan go electric at Newport, he played Richard II in a summer production in the courtyard of his high school. "I'm sure it was pretty dire to see," he said, "but it was fun." Three years later he was Troilus in a workshop in Cambridge. "And then," he said, "a long pause until 2011."
In fact, it was work like Spinal Tap that convinced Mr. Eustis that Mr. McKean would make a good Gloucester. "I have discovered a slight trick of the trade," Mr. Eustis said. "If an actor does not have extensive Shakespearean training, the fact that they're musical makes all the difference. They figure out the rhythm and figure out that it's something you play with."
Mr. McKean isn't the only member of the production not engineered in the classical theater factory. Kelli O'Hara, who plays Regan, has never done Shakespeare. Director James Macdonald, best known for directing new plays by Caryl Churchill and Sarah Kane, has done Shakespeare only a handful of times. Mr. Eustis's hope is that a varied company will lead to a naturalistic Lear.
"This is utterly not a high-concept production," he said. "The people feel realer to me in rehearsal. I've probably seen one or two Lears a year for the last 30 years, and I'm hearing things I've never heard in the play before."
What he might be hearing is Mr. McKean's history as a crooner. He started singing long before Spinal Tap. On Laverne & Shirley, he and David Lander played regular duets as Lenny and the Squigtones, a goofball doo-wop outfit. (Sample lyric: "Then I'll find me someone new/Who won't be someone dumb like you.") After the sitcom ended in 1982, Mr. McKean turned down role after role playing "the idiot next-door neighbor," knowing that "it's not your first gig that typecasts you, it's the second and the third."
But it wasn't long before the success of Spinal Tap put Laverne & Shirley squarely behind him.
"After Spinal Tap," said Mr. McKean, "I actually said to myself, 'Hey, if I die tomorrow, nobody can say I only had one trick.' So that was a good thing."
He made his Broadway debut in 1990, and has popped up on the New York stage with increasing frequency in the past decade. Tina Landau, who directed him as the lead in Superior Donuts in 2009, praised him for "digging deep" to make an active performance out of what is, on the page, a passive part. For Ms. Landau, who has directed Shakespeare a number of times, his appearance in Lear was a next logical step.
"He is Shakespearean," she said. "With that beard, he kinda looks like Shakespeare."
The past two summers Mr. Eustis offered him roles in Shakespeare in the Park, but scheduling conflicts made it impossible. Mr. McKean sharply regrets not being able to do Al Pacino's The Merchant of Venice.
"It was one of those parts where I'm on the stage for a long time without saying anything," he said, "but you get to watch Al Pacino, for god's sake! Come on!"
His conversation is peppered with compliments for his peers. He described Mr. Waterston as "a remarkable actor," Ms. O'Hara "amazing" and Seth Gilliam, who plays Gloucester's duplicitous son, Edmund, as "very, very good." Mr. Macdonald, whom he called "my favorite kind of director," was happy to return the compliment.
"The man is a complete delight to be in a room with," said Mr. Macdonald, who had no concerns about Mr. McKean's lack of Shakespearean training. "Blank verse is the most natural way you could talk," he said. "Lots of actors have lots of insecurity about doing it, but actually when you get on it, it's like breathing."