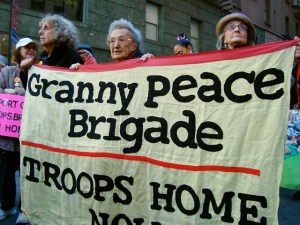 The Observer went to the opera last night and found Occupy Wall Street, sort of.
Rounding the corner and ascending the steps of the plaza at Lincoln Center about fifteen minutes before the performance of Anna Bolena was to begin, we expected to see the iconic fountain and maybe a few patrons milling patiently about. Instead, where the fountain should have been, was a protest.
But it wasn't the sort of protest you'd find down at Zuccotti Park. Here, a couple hundred people were standing quietly about, whispering to each other and apparently watching some soundless spectacle that we couldn't yet see. They didn't look like protestors, at least not like the barefooted, bearded, fiercely youthful sort whose photos have been gracing the pages of every New York publication for the past month.
A man leaving the area offered his interpretation to his date as he walked by us. "It's Occupy Wall Street. They're taking over every goddamn inch of public space in this city." We looked closer, curious as to why the notoriously raucous OWSers had suddenly decided to hush-up, what they were doing at Lincoln Center, where tax dollars were spent on Brahms, not bailouts.
We nudged our way to the front of the crowd and were shocked to find not a group of ragtag revolutionaries with cardboard proclamations of percentages, but rather a line of fifty or so old ladies—all well over sixty, and all staring resolutely straight ahead—holding yellow signs that read "WE STAND FOR THE FREEDOM OF SPEECH," "AGAINT U.S. MILITARY BASES ABROAD," "AGAINST THE HUMAN COST OF WAR." Valid positions, one might argue, but not quite of the sort that OWS has adopted. Perhaps the criticisms were true: a lack of central leadership meant the movement was getting off-topic.
A bit more asking around and a brief convo with a sweet old lady named Nydia revealed that the silent vigil was the doings of group that calls themselves, "The Granny Peace Brigade."
Six years ago, the Granny Peace Brigade formed when a group of older women were arrested at a Times Square recruitment center for attempting to enlist, in the place of their grandchildren, in the U.S. Military. Last night was the anniversary of that event, the silent vigil a commemoration of the valor of those hard-nosed grannies, and the woman to Nydia's right held a sign that read, "WE STAND AGAINST THE MILITARIZATION OF OUR YOUTH."
All the while, confused operagoers of a similar age, in their long wool coats and evening gowns, shuffled around the edges of the crowd en route to the theater door with inquisitive looks on their faces and gold-coated binoculars in their hands.
While Nydia tried to distance herself and the rest of the Grannies from OWS—"We planned this weeks before all that started"—the Occupiers who had come to show their support saw the two groups as one and the same. It seemed OWS was getting in on the grannies' action. Or maybe it was the other way around.
"I'm here because I believe in what Occupy Wall Street is doing," said a woman named Julie who, like many, stood alongside the grannies but had no yellow placard. "I'm here because I'm against Citizens United, I'm against big banks paying their CEO's tons of money while most other people can't find a job, I'm against…" she trailed off. "I think there are a couple other points…"
We overheard an onlooker nearby tell his friend that he'd seen a group of police officers around the corner.
"The cops ain't going to arrest these old ladies!" his friend responded. "They know that would cause way more trouble for them."
An usher near the opera door yelled out, "Let's go folks! No late entry until intermission," and we hurried away, leaving the Grannies and their unsolicited OWS supporters to their strange business.
cclemans@observer.com