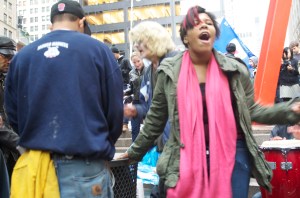 Marches, protests, getting arrested….what better way is there to meet girls? Honestly, that's probably how half of our younger staffers' parents met.
Whether you were on the Brooklyn Bridge Saturday because you honestly believe capitalism is ruining America, or because you got in lock-step with a really hot girl, the result is the same: a lot of missed connections.
1. While Gawker is trying to help this one young man find his specific anarchist (?) beauty, we thought that everyone at Zuccotti Park looking for a casual encounter should have a chance.
---

Date: 2011-10-02, 5:14AM EDT
Reply to:

---
I first spotted you at Zuccotti Park/Liberty Square right before the march started. You're a few years younger than me with short, dark hair and you were wearing all black with leggings and a red handkerchief around your neck. I thought you crushingly attractive but things got moving and I lost track of you before I was able to work up the nerve to say hello. I saw you again a couple hours later when we got arrested on the Brooklyn Bridge, and then we ended up in neighboring cells at the 90th precinct house in Williamsburg. I'm the tall guy with glasses and short, dark hair wearing jeans and a tan t-shirt. I had a gray hoodie with black stripes on the bridge. You made fun of my shoes' tongues falling out because they'd confiscated our shoelaces! Unfortunately you were released in the first group and I in the last, so I couldn't find you by the time I got out. Curses!

I'll be looking for you hard the next time I'm down there, and I won't let the opportunity pass a second time. But in case I don't see you, know that I'd love to buy you a coffee or tea or what-have-you (it's cold in that park!) and hear what draws you to the demonstration. Say hello!

UPDATE: You are photographed very prominently on The Guardian:
2. Even big girls need a non-smelly hippy to crash at their place and have sex with them love.
---

Date: 2011-10-04, 11:04AM EDT
Reply to:

---

Hey, I'm one of the people in Occupy Wall Street. I've been looking at big girls a lot, but I haven't had the pleasure of being able to have sex with one, given the location I'm sleeping in. This is where the hosting comes in. I need a shower, maybe you need a lay or a cuddle buddy…I'd be happy to oblige, if you would like. I'm 6′ tall, with brown skin, a bald head, and honey eyes. I usually wear a trench coat and fedora, and have been keeping clean enough (in all ways…I don't smell, and I have no diseases.). However, washing up in a public restroom gets annoying. Age, color, orientation, etc. are no object to me, as long as you're STD free and okay with having someone come over, shower, and possibly have fun with. Email me and I'll be happy to send you photos.
3. Nothing makes us hotter than the idea of having sex with someone who is into taking out their frustration with the capitalists pigs by banging a total stranger.
---

Date: 2011-09-29, 10:49PM EDT
Reply to:

---

If revolution makes you hot, then join me this Saturday at Liberty Park at 3pm. We will march against this corrupt capitalist system that has ruined many lives, then take out any left over frustrations on each other. If you're interested contact me for more info and pics.
4. "All day, all week, let your bulge touch my ass cheek!"
---

Date: 2011-10-02, 3:48PM EDT
Reply to:

---

we were holding signs up next to each other and at some point it got crowded and your bulge touched my ass.
then i realized you were doing it on purpose.

then someone next to you got tackled and i think you might have gotten arrested.

if you were grinding your dick on my ass at the protest, i wanna make some peace witchu in bed

hit me up.
5. He's just looking for friends, but just FYI he's never been married, so don't worry if you are. Just throwing it out there.
---

Date: 2011-10-05, 10:36AM EDT
Reply to:

---

Are you a musician or a social worker? I am both…so between the two, we might have something to talk about.

I would like to participate in the historic "Occupy Wall Street" protest that's been brewing. At 4:30PM today, thousands of people from the American Dream Movement will march in solidarity with the Occupy Wall Street protesters from Foley Square to Wall Street. It starts at Duane St and Centre St, outside 26 Federal Plaza and the march ends at Zuccotti Park in Liberty Plaza.

Do you want to meet up with me and do this?

About me: I recently got my MSW after several, diverse careers (concurrent all along with being a professional pianist/vocalist/composer). I have a hilarious sense of humor, except when I'm not funny. I'm a good listener (well, I guess I'd better be) and I just want something to do and someone to do it with.

I truly do not hope for romance/sex, so you don't have to be hetero…or even female.

I have never been married and have no kids but it's okay with me if you have and do.