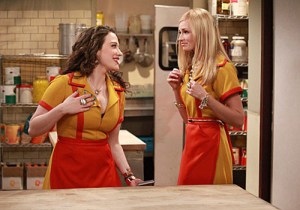 There was a hopeful moment early late last spring—back when Amy Winehouse was alive and Casey Anthony had not yet been tried. Even if summer had to end eventually, at least it would mean the beginning of one of the best fall seasons ever for young women on TV, a laugh-track filled rejoinder to Christopher Hitchens assertion that women weren't funny.
As if to reward us for buying tickets to Bridesmaids, the networks were suddenly bullish on "girl"-centric comedies—ABC snagged New Girl, CBS bought 2 Broke Girls, NBC bought Whitney, named for and written by the girl who created 2 Broke Girls, and HBO green-lit Girls, which was not only on-trend title-wise, but also came with Bridesmaids producer Judd Apatow's imprimatur.
These four shows represented the largest female television boom since the end of Sex and the City, which had demonstrated how lucrative female-centric TV could be, but had also proven difficult to replicate. Networks produced shows about women of similar age and temperament—Cashmere Mafia, Lipstick Jungle—but they failed to stick. TBS broadcast re-runs of SatC which were about 15 minutes long after being trimmed of the sex scenes.
Now seven years gone, the series' influence still looms over the new female-centric shows. AV Club has already portrayed Girls as a recession-era Sex and the City for a younger generation. The first female-centric show on HBO since the departure of Carrie and the gang, focuses on three young women—"Hannah (Lena Dunham), an eternal intern at a publishing house in SoHo and a hopeful writer; Marnie (Allison Williams), a sexy, bitchy, and ambitious assistant at a slick political PR firm whose goal is to practice environmental law; and Jessa (Jemima Kirke), a space cadet with hippie tendencies who wants to be an artist/educator," as the press release put it—managing their careers, their relationships, and their friendships with one another in trendy Greenpoint, Brooklyn.
On a press tour for 2 Broke Girls, Sex and the City creator Michael Patrick King insisted his new series had "completely different DNA." This much is true: Sex and the City's heroines fetishized Magnolia Bakery cupcakes, while 2 Broke Girls' heroines capitalized on that trend by marking up the prices of the homemade cupcakes they sell to hipster sheep in the Williamsburg diner where they wait tables.
In fact, one of the more surprising trends found in this crop of female-written television is their marked departure from the sort of third-wave Cosmos-and-Manolos sexual empowerment that was the earlier show's hallmark. Quite the opposite: In the pilot episode of each of the new series, the star's sexual humiliation is presented as the obstacle that establishes the season's narrative arc.
The premise of New Girl is that Jess (Zooey Deschanel) has to move in with a bunch of dudes she finds on Craigslist, after coming home her to surprise her boyfriend with an amateur strip tease and finding him banging his own new girl. (As Lucille Ball might put it: "Waaaah!") 2 Broke Girls' Max (Kat Dennings) also catches her boyfriend messing around in her bed in Episode 1; kicking him to the curb frees up apartment space for Caroline, the second broke girl. And Whitney foretells a season of rom-com clichés with the lead character's attempt to "spice things up" with her boyfriend by donning a nurse's costume for some role-play, a farce which ends with the poor guy in need of emergency care from a real nurse.
And if Tiny Furniture is any indication, sexual humiliation is also a theme of Ms. Dunham's. In the film, Aura (played Ms. Dunham), smokes a joint with her co-worker before having a regrettable sexual encounter with him in a Dumbo construction site. It's a much darker scene than the sexual slapstick found in the New Girl and Whitney, but the message is the same: look at what degradation an otherwise competent and confident young woman will endure for the approval (affection and commitment are not even on the table) of an aloof, good-looking guy.
In addressing sexual power dynamics, 2 Broke Girls and New Girl should be credited for their half-hearted attempts at making sexual objects of male characters, though they end up stalled by clichés. Guy candy is identified by ripped abs, and male vanity by an eagerness to be shirtless. As a result, though, both shows miscast key male actors (Max's boyfriend looks more like a Hollister greeter than a Havemeyer heartthrob) and, worse, ignore the the array of more insidious strains of vanity plaguing contemporary men—sneaker collections, heritage whiskeys, taxonomic knowledge of the D.C. hardcore scene, etc.
But even an imperfect representation of the hipster subculture is new to network sitcoms. Forget the glossy allure of Carrie and the girls; this new crop of shows seems determined to present women "as they really are," i.e., beautiful but quirky. Whitney Cummings is a former model, but on TV she plays a version of herself who embarrasses her boyfriend by wearing the wrong thing, falling down, and eating a lot.
New Girl stars indie dream girl Zooey Deschanel, but her acting (which, here, is limited to wide-eyed expressions, a Pee Wee Herman voice and frequently breaking into song) is not "adorkable," as the show's marketing campaign insists, but irritating. It actually reminded me of Will Farrell's demented "Buddy" character in Elf, in which Ms. Deschanel, ironically, played the mordantly adorkable love interest.
2 Broke Girls comes much closer to nailing the hipster aesthetic. It gets the details so wrong you could cringe (a coveted Strokes shirt should have been vintage Pavement, the crowd coming out of an Arcade Fire concert look more like Fleet Foxes fans), but its tone—blithe racism, rapid-fire and scattershot cultural references, real-life conversations about events that occurred on social networks—perfectly captures the defeated irony of the twentysomething gentrifier, for better or for worse.
The best example is a scene in the pilot, in which Max finds Caroline asleep on the train. Max nudges her, and Caroline jolts awake and shocks Max with a pink Taser she had tucked under her arm.
"I thought I was being raped," Caroline says, by way of apology.
"That's not what rape feels like," Max replies, and the laugh track rolls.
The point doesn't seem to be that rape is funny, but that, despite occupying a safe and gender-equal New York, rape and the threat of rape are still such a horrifically banal part of the female psychological experience that it is the first word on the tip of Caroline's tongue when she's touched unexpectedly.
The new slew of girly shows share another somewhat controversial form of humor. With help from Whitney and 2 Broke Girls, the word "vagina" is fall TV's biggest trend, according to The New York Times' Bill Carter. It's not always anatomically precise, but it's funny.
"Vagina jokes paid for my house," Ms. Cummings told the Times. As a comedian who inhabits the same sphere of Hollywood stand-ups who spout off dick jokes in Judd Apatow's Funny People, she knows how to get a surefire laugh.
But dick jokes were enjoyable in Funny People, for one, because they were improvised by a group of male comedians playing male comedians who are also friends.
If vagina jokes are a form of girl bonding, they're not used that way in these shows. When 2 Broke Girls's Max tells a male patron of the diner where she works that when he snaps his fingers to get her attention it makes her vagina dry up, it's just a more crass example of her character's relentless hostility.
Which gets at why, ultimately, New Girl, Whitney, and 2 Broke Girls feel like they're missing something—the female characters are so friendless. Female friendship was the constant in Mr. King's Sex and the City, but 2 Broke Girls' Max and Caroline are plainly uncomfortable around one another. They avoid eye contact when revealing personal details, as if saving her best lines for themselves. Whitney and her two friends—nameless shopping and drinking partners—fail the Bechdel test (in which two female characters talk about something other than men). New Girl is less about Jess, who mostly cries, than it is about the dynamics between her three male roommates.
But then, if anyone could provide an update on female friendship, I imagine it would be Ms. Dunham. Tiny Furniture took girl talk beyond the brunch table, to conversations in unmade beds, and through the shower door, while wriggling in and out of outfits with a sense of straight girl physical intimacy rarely depicted on screen. In other words, perfect for vagina jokes.
In anticipation of the show, I've been following the writers' Twitter feeds, where gynecological humor has become an ongoing theme.
"Last summer my gyno said lots of women were coming in worried because 'they didn't recognize the sensation of having a vagina in hot weather,'" Ms. Dunham wrote.
"Lena!" a friend replied. "Don't say 'hot vagina.'" a friend replied.
"If this upsets you," cautioned Jenni Konner, Girls executive producer, "I'm worried you won't be able to watch Girls."