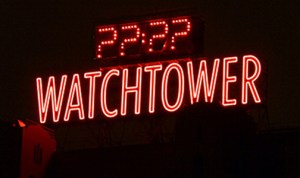 While The Observer might be as guilty as anyone for promoting a "here's your hat, what's your hurry?" attitude towards the Jehovah's Witness' inevitable departure from the site of their global headquarters in Brooklyn Heights, it seems we're not alone, and it also seems that this atitude is beginning to irk the famously media shy religious organization.
In a conversation with The Brooklyn Eagle, the Watchtower's Richard Devine says that not only is the organization's recent spate of property sell offs not a sign of impending departure, but that "the move will likely be years away." A major sticking point that is keeping the Jehovah's dug in on the banks of the East River is the apparently slow-moving process to get approval to build in their new home of Warwick, N.Y.
Applications to build an 8 building, 30 acre campus in the town have not yet been given the go-ahead as the plan requires an apparently hard to get "special-use permit." As the Watchtower will be producing its eponymous newsletter in Brooklyn up until the new facilities are completed Upstate, it stands to reason that the JWs will be maintaining a major presence on the streets of Brooklyn Heights.
What this means for the neighborhood and its property values remains unclear, despite the rampant press speculation that has linked the unsold Watchtower property with everything from condo development to a potential NYU mega-dorm. The only party that might be deflated by the delay in departure is the group behind Brooklyn Bridge Park.
According to a recent deal struck between the city and the state, any new residential or commercial development on the Watchtower properties could be used to pay for maintenance of the park. This would be instead of building a condo tower at Pier 6. But that deal must close by the end of 2013, so the JW's would have to seriously speed things along for that landswap to come to anything.
So, while some might not hate to see the Watchtower go, we seem to continue love watching them walk away…
tmcenery@observer.com