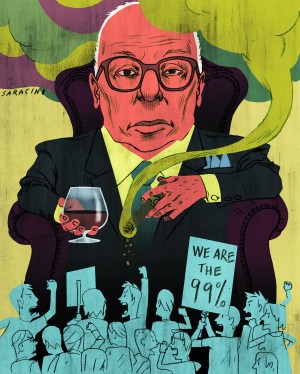 Almost a month after a group of well-educated New Yorkers first unrolled their sleeping bags in Zuccotti Park, The Observer took a taxicab to 64th Street and Fifth Avenue to attend a gathering at the home of John Gutfreund. It was a cocktail party to celebrate The Artist, an Oscar hopeful that had just had its premiere at the New York Film Festival. Mr. Gutfreund's wife, Susan, had been generous enough to invite the cast, crew, and producers to her and her husband's home for a thing after.
Most of those involved in the film spoke French, and Ms. Gutfreund is fluent.
"This was all my wife's idea," Mr. Gutfreund told The Observer.
The 1980s boom-time chief of Salomon Brothers was slim beneath his suit, but not frail, and his thin oval spectacles only enhanced his stature. We spoke about his friend Katherine's son, who used to write about nightlife for this newspaper. George, we told Mr. Gutfreund, is doing well. Then arms took other arms and we lost each other, for the moment, somewhere between Hamish Bowles and Harvey Weinstien.
Never mind that stuff about the one percent. Both hosts were more than gracious. The Observer was especially impressed with the decorative accoutrements—that winding Grecian staircase that sprang up after the elevator, delicate Oriental tapestries and silks, the marble spilling everywhere like lava—because we had never been to a place like it before.
The cast of the film arrived, and as they circulated through conversational cliques—red-hot atoms of praise—we noticed that someone was missing.
"Oh, well, John," Mrs. Gutfreund told us. "He spends all day in there."
She was speaking of the library, a small place a few lefts from anywhere else, and when we found it a few men sat having cigarettes that ended up in silver trays. The house's patriarch took over the center chair.
Then we asked Mr. Gutfreund, the man Time magazine called "The King of Wall Street" when he led Salomon Brothers, what he thought of the protests.
"Occupy Wall Street, well, it's much like that generation—all action," he said. "But what is it for?"
We thought of an anecdote—this is the man who wanted the boys under his watch to come in ready to bite the ass off a bear.
Throughout Liar's Poker, he is depicted puffing cigars and tipping his ash everywhere. The traders, they knew he had been watching over their shoulders, silently, if they got up at 10:00 at night to leave, and what was there? A pile of soot.
Mr. Gutfreund got up to leave.
"Just what do they want, anyway?" he said.
A few days later, The Observer went to Cipriani, the palace on 42nd Street that was long home to the Bowery Savings Bank, for the Americans for the Arts Awards. After a drink, we went to talk to the artist Jeff Koons about Occupy Wall Street.
"You know, I haven't really been following it," he said, after entering the digits of a woman next to him into his iPhone. "I've been out of the country. But I've been asked about it a few times."
"It's a little bit Tea Party, a little bit Woodstock," said the woman.
A bell rang for dinner, and after flinging around a champagne glass for the camera of Todd Eberle, we went to take a seat. The salad was arugula, the main course lamb-in-bone.
Talk turned to the next presidential election.
"There's no Democratic candidate, there's no Republican candidate," said the woman sitting next to us.
A server refilled our glasses with wine.
"Could there be an Occupy Wall Street Candidate?" she offered.
As plates were cleared, the ceremony continued. "I couldn't imagine a more worthy awardee than Wells Fargo bank," the presenter said.