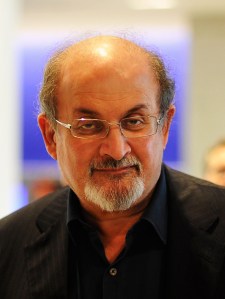 As support for Occupy Wall Street grew in recent weeks to include all kinds of professional associations and trade unions, the writer Jeff Sharlet thought that some writers might eventually band together and circulate a statement — and maybe even sign it.
"I was waiting for the letter to happen," said the author of The Family: The Secret Fundamentalism at the Heart of American Power. "I was thinking probably somebody will do this."
He watched as gatherings of nurses and teachers and machinists and service workers marched on Wall Street. And while lots of writers were there too, the letter never came. "It didn't happen because writers are lonely, selfish people and they don't do this sort of thing," he said.
So Mr. Sharlet decided the time had come to wield his pen on behalf of his melancholic profession. He wrote to Salman Rushdie, who had been expressing enthusiastic support for Occupy Wall Street on Twitter. "I said, 'Hey Salman, if there was a letter would you sign it?'" said Mr. Sharlet. "He wrote back immediately yes, and with enthusiasm and ideas."
With his former research assistant and fellow journalist, Kiera Feldman, and Mr. Rushdie's seal of approval (along with help from writers like Francine Prose, who sent the letter to all her writer friends) Occupy Writers, as the formerly preoccupied group came to be known, soon gathered more than 200 signatures. In addition to Mr. Rushdie, the list as it stands so far includes everyone from Pulitzer-prizewinning novelist Jennifer Egan to New Yorker writer Elif Batuman to short story writer George Saunders. There are well-known activists (Barbara Ehrenreich, Naomis Klein and Wolf, and academic Judith Butler), fantasy writers (Neil Gaiman and China Miéville) and a lengthy roster of heavyweight novelists, including Ann Patchett, Allan Gurganus, Jonathan Lethem and Donna Tartt. Even children's writer Lemony Snicket signed on, along with the editors of n+1, Tin House, The Awl, Lapham's Quarterly, The Nation, The Onion and Guernica.
"Samuel R. Delany signed on because he was in Jonathan Lethem's office when I e-mailed him, and Lethem replied with an e-mail with the subject line 'Absolutely yes, and Samuel R. Delany too,'" wrote Ms. Feldman in an e-mail to The Observer.
"Having corresponded with a good number of the folks on that list," she continued, "I'll tell you they are beyond inspired and excited by the creativity and imagination they see happening down at Occupy Wall Street and around the country." She described the response as "diluvian."
Last night, as writers across the city set their alarms for a 6:00 a.m. gathering in Zuccotti Park, Mr. Sharlet and Ms. Feldman launched a web site, Occupy Writers. The site was designed by Nathan Schneider, who is covering the occupation for Harper's magazine.
Mr. Sharlet and Ms. Feldman opted for a relatively oblique statement of support rather than listing specific demands. The statement reads, "We, the undersigned writers and all who will join us, support Occupy Wall Street and the Occupy Movement around the world."
Mr. Sharlet said that this approach "speaks to what's been effective about the protestors having resisted the drive to come up with the list of demands." He pointed out that while a lot of politically active writers are on the list, it also includes writers not known for politics. "It's something broader, more emotional and something a lot of writers can identify with."
The inevitable question among onlookers is who is missing. Does Michael Lewis want to stake a claim? "Great American Novelist" Jonathan Franzen expressed his support for Occupy Wall Street at The New Yorker Festival, but his name is not yet on the list.
"I was holding out hope for George Will," joked Mr. Sharlet, referring to the crusty conservative newspaper columnist. "He wrote me a long nice e-mail saying he'd been sleeping in the park but he's just not there yet."
Self-published writers are also welcome to add their names, although Mr. Sharlet said some Dartmouth students are vetting queries to weed out imposters of famous writers or people trying to add the names of deceased literary figures. As for outcomes, one thing has made itself clear: "So I was wrong," said Mr. Sharlet. "Writers are not lonely and selfish."