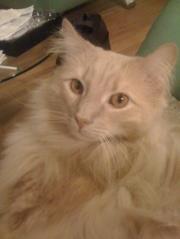 Don't worry kitty, they're coming for you. The search for the fugitive long-haired tabby was still on in Far Rockaway when we checked in with American Airlines this week. "We continue our efforts to search for Jack and we remain hopeful that he will be found," said Ned Raynolds, a representative for the company, from whose care the cat escaped about six weeks ago in the jungle of J.F.K. International Airport. "We haven't given up."
Neither have the fans of the "Jack the Cat is Lost in AA Baggage at J.F.K." Facebook group, 15,282-members strong as of Monday, who continue to retweet, comment on and blog about the fluffy orange feline who went missing when his owners attempted to move with him to California.
Melody Turner, a concerned Friend of Jack, or "FoJ," emailed The Tramson Saturday to plead Jack's case. "He is still missing and they are having a Jack Awareness Day today and also next Saturday at J.F.K. and surrounding areas," she said.
"The chances of Jack surviving or being returned readily get minimized each and every day," a former communications representative for United Airlines who has experience with social media-fueled public relations crises told The Transom. "But it's a very dangerous place, an airport. Lot of moving parts and moving vehicles and moving machinery."
After clearing security, owner Karen Pascoe received a call from an American Airlines employee who told her Jack was missing. After a search turned up nothing, Ms. Pascoe and her family boarded their flight, assured by American Airlines that they would find her cat, contact her again by the next day and presumably return the cat to her the way they would any other lost baggage.
It took 66 hours for a baggage manager named "Andy" to call. He told Ms. Pascoe the hunt was still on, although "the last time this happened, it took about a month to find the cat."
The delay was the airline's first public relations mistake, said the former United flack.
"They may never find him, or if they find him and he's dead already—whatever happens is going to be more news," he said. "Is it a huge problem? Will people stop buying tickets? Probably not. Will it lead to a boycott? Probably not. It's just the airlines' business has always been competitive. It's a terrible business model. Airlines can't make money, so these little things do matter."
Customer complaints have an impact on airline regulations, he said, referring us to the Federal Aviation Administration's recently enacted penalties for extended delays. "A lot of that was driven by cellphones and even by that time Twitter and Facebook of the passengers, the customers sitting on the plane, raging. 'We're stuck here for four hours! No word, no free drinks! We can see the gates are open but they won't let us back in!'"
But airlines also have plane crashes and shoe bombers to worry about, we noted.
"It started off certainly before Twitter and before Facebook," he said. "It was the online travel internet sites. The business travelers, they're aviation wonks. We loved our wonks because they loved aviation and everything about it and these people are very adamant about service."
Would the aviation wonks care about Jack the Cat? we wondered.
"I think they would," he said. "Only because of brand loyalty. 'That's my airline that came through and found a German shepherd,' or 'that's my airline that not only got the cat lost, but didn't seem to care.'"