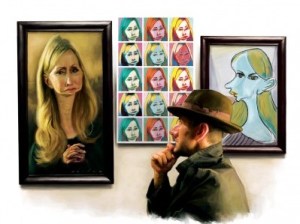 Update:
In a post on artinfo.com LBM President Ben Hartley objected to a number of elements in this article, noting that he had replied to several of our questions and that The Observer "chose to disregard this and publish anyway." This claim is simply nonsensical. While Mr. Hartley's post contains a redacted version of an email we sent while researching the piece, he curiously failed to link to our published story, which in fact carefully reflected his denials and corrections. (That is, of course, why we reached out to him for comment in the first place.) There is one exception: Mr. Hartley claimed that our assertion that LBM paid $1 M. for their offices' interior and another $1 M. for a fogging glass wall was "incorrect." Like every detail in our story, this assertion was related by multiple sources. The piece has been updated to reflect Mr. Hartley's contention.
On Sept. 19, Carlos Slim, the world's wealthiest individual, dropped by the Metropolitan Club, Fifth Avenue's answer to a Florentine palazzo, to pick up an award.
The trophy Mr. Slim received that night—a silvery coil—recognized his "creative leadership," specifically, his philanthropic commitment to the arts. It was awarded by Louise Blouin, owner of Art + Auction, Modern Painters, and Artinfo.com, who is no pauper herself (she is listed as the 189th richest person in the United Kingdom).
With roller-precise curls, and a waxily perfect, expressionless demeanor, Ms. Blouin heaped praise on Mr. Slim, whose Museo Soumaya in Mexico City was rebuilt this year for $70 million.
Ms. Blouin, 52, must have seen something of a kindred spirit in Mr. Slim. Though her coffers were a little shallower, she too has been a lavish patron of the arts, spending $26 million in 2006 to build the Louise T. Blouin Institute, a nonprofit gallery and arts center in an old warehouse in Shepherd's Bush, London.
The gala honoring Mr. Slim kicked off the annual Blouin Creative Leadership Summit, a two-day summit with a vague agenda, conveniently held the same week as the United Nations General Assembly each year (this year's guests included the presidents of Iceland and Mozambique). The annual event, first held in 2006, is now a rare chance to spot Ms. Blouin, once called a "social barracuda," in New York society. No longer the leather-clad fascination object of British tabloids, Ms. Blouin has settled down in her third act as a career philanthropist.
In June, she wed Mathew Kabatoff, who works for her foundation. The couple is registered at Crate and Barrel online. No items are listed, but gift cards are welcome.
That might seem an unusual present for a woman whose net worth, according to the Sunday Times of London's annual Rich List, is estimated to be $664 million, up $476 million since 2010. But neither has her wealth been apparent to employees of Louise Blouin Media.
In recent years, Ms. Blouin's media empire has begun to show signs of stress. In July 2010, a group of long-unpaid Artinfo freelancers formed an organized movement, WAANKAA: Writers Against Artinfo Not Kidding Around Anymore. It wasn't just payroll; bills went unpaid for months. At various times, employees have been locked out of their Chelsea offices by the building's management company and shut out of their own website by its web-hosting firm. The lights and Internet have been shut off.
According to New York State court filings, Louise Blouin, her company and her foundation have variously been sued by their landlord, their printer, FedEx, an office-supply company, a marketing consultant, a freelance web developer and two interior decorators. Most of the claims have been settled, many in Ms. Blouin's favor, but the question remains why one of London's richest women would have trouble keeping the lights on.
Raised upper middle class in Montreal and educated at McGill and Concordia, Ms. Blouin—after a brief, annulled marriage to a tobacco heir at age 21—married John MacBain, a Rhodes scholar, in 1987. Together they bought a slew of classified advertising magazines and founded Trader Classified Media, Inc., which grew to be worth almost $1 billion over the course of the '90s. Ms. Blouin had the right intuitions about the Internet—she reportedly spearheaded the decision to found Autotrader.com—and the wrong ones about Mr. MacBain. The couple split, the Internet bubble popped, and Ms. Blouin was pushed out, trading her stake in the company for a reported $250 million in 2000.
Ms. Blouin quickly rebounded with a new boyfriend, Simon de Pury, the elegant Sotheby's auctioneer who had recently taken over at Phillips. When LVMH, the house's main investor, began to pull back, Mr. de Pury appointed Ms. Blouin CEO. Within a year she was forced to step down, however, and the couple broke up, fueling speculation that Mr. de Pury had given her the job expecting her to invest in the auction house.
Almost immediately, Ms. Blouin moved to London and began snapping up art magazines (Art & Auction, Gallery Guide, Spoon, Modern Painters) and launching others (Culture + Travel, Artinfo.com), eventually forming LTB Media. She began talking up something called the Blouin Sales Index, which would be a Bloomberg Terminal for analyzing the art market.
The consensus was that Ms. Blouin had plunged into the business of fine art magazines as a way of getting over Mr. de Pury, staking an independent claim on art world relevance. There is an oft-repeated story that Bernard Arnault, the LVMH executive who had pulled out of Mr. de Pury's auction house, gave Ms. Blouin a deal on Art & Auction, unloading it for $1 and $100,000 of free advertising for LVMH brands, which the company denies. Ms. Blouin continued to attend the same galas, fairs and parties, with a new hat on—publishing patron.
During the Venice Biennale in 2005, she threw a party at the Guggenheim Museum to announce, in a lengthy speech translated into Chinese, upcoming projects for her recently inaugurated nonprofit Louise T. Blouin Foundation, including a plan to help Sudan by teaching its children to appreciate opera, according to the Guardian. More interesting to them, she was seen leaving with her new paramour, Prince Andrew.
In 2006, Ms. Blouin moved the magazines to New York and hired James Truman, the former editorial director of Condé Nast, whose dream to launch an art magazine had been dashed by Si Newhouse, to oversee them. But there were signs of turmoil almost immediately. Within the first year Mr. Truman left, reportedly over budget issues.
Simultaneously, Ms. Blouin began selling off personal property. In 2007, she traded her Holland Park townhouse for a penthouse overlooking the Thames, grabbing a $25 million profit. She auctioned much of its contents at Christie's London, including 30 Hermès handbags. One former LTB employee, upon reading the news, asked Ms. Blouin to donate one of the bags to a fashion charity she worked for. She never heard back. The lot brought in $44 million.
Ms. Blouin was an unusual boss. Untrained in magazine publishing, she was charismatic in person and confident in her vision, but inscrutably vague and meandering via email—a significant problem due to her busy travel schedule. Part of her difficulty with written communication likely stemmed from her dyslexia, which she spoke about publicly. But she had good taste in editors, who enjoyed frequent travel, minimal oversight and executive retreats to La Dune, Ms. Blouin's Southampton estate. The latter involved interminable roundtable strategy meetings, but it was a treat to be tended to by her butler and art handler, Paul, who had once been butler to Queen Elizabeth II, a parting gift from Prince Andrew, according to a source.
"It was the best job in the world," former Culture + Travel editor Kate Sekules told The Observer.
The fun stopped, as it did most everywhere, when the recession hit. Ms. Blouin replaced top executives with Peter Cipriano and Bruce Morris, formerly of Mediabistro, who oversaw finance and operations, respectively. They enacted a strict belt-tightening. Full-time staff took pay cuts twice, a total of 12 percent.
Art & Auction editor Tony Freund and executive editor Ted Loos quit in protest of the editorial starvation diet and were never replaced. Modern Painters editor Chris Turner and Artinfo.com editor David Grosz were laid off. A cross-title editorial director, Marisa Bartolucci, replaced all four. The remaining junior editors were asked to submit freelancer priority lists—the writers whom, in the event the company couldn't afford to pay everyone that month, were the angriest or most important to the company.
"She's rich, but she's not as rich as Si Newhouse," said a former executive.
Nonetheless, Ms. Blouin kept up appearances. In 2008, Louise Blouin Media moved to a new office on 10th Avenue, paying $1 million for a Richard Meier-designed interior, according to a former senior staffer. Another $1 million went toward a fogging glass wall for the conference room, he added. Louise Blouin Media denied this.
As art galleries closed and ad pages dropped, Ms. Blouin ordered the magazines printed on thicker paper, which gave the impression of a robust book. The Art Newspaper criticized Ms. Blouin for saying LTB Media owned 165 magazines, a sum that must have included individual issues, and let people believe she went to Harvard, when in fact she attended a business seminar there.
Complicating matters, Ms. Blouin's personal finances were deeply entwined with the company's. Managing Louise Blouin Media was tantamount to keeping her personal books, a former executive told The Observer. Writing checks for her teenage children's parking tickets put payroll sacrifices in relief and caused resentment. At one point, management had to shuffle money around in order to buy the owner a plane ticket home from Japan, the executive said. They joked about leaving her there.
Former executives also described years of paying off back taxes, and said small business loans were used to pay Ms. Blouin's personal bills. One said outside investors have expressed interest in buying stake in the company, but Ms. Blouin rebuffed them because she didn't want anyone else's name on the door.
"I can't talk about that," former CFO Mr. Cipriano said of his time at Louise Blouin Media, when reached for comment. "I was too deep in it; I know too much." Mr. Cipriano now holds the same title at a New York barge company.
"LBM is a 100 percent owned by Louise Blouin," said president Ben Hartley, speaking for Ms. Blouin. "The company is a privately held and financed company. We do not discuss private matters."
One former finance director, Diego McDonald, alleged that Ms. Blouin fired him when he refused to make false representations of the company's financial condition. He added that he agreed to take the job at below-rate pay because Ms. Blouin said it was a profitable media company and he would be rewarded as it grew.
A state supreme court judge threw the case out in March. The decision said that, as a certified accountant, Mr. McDonald should have been able to see that "LBM has always been operating at a loss, with no realistic opportunity of growth," as he claimed.
At the most recent meeting in the Southampton, an editor still with the company reported that Paul, the butler, had left Gin Lane, and without him it had fallen into slight disrepair.
Which is not to say things could not turn around. Print advertising was irrevocably damaged by the recession, but the art market was not. Part of Louise Blouin Media's business strategy had always been to invest heavily in auction data as part of a plan to build a database and analytics tools that could compete with Artnet.com. Even as the magazines struggled, Ms. Blouin remained loyal to the project, maintaining a remote staff in Arizona and making the clumsy manual migrations to get all the data in one place.
The Blouin Index is currently accessible for free at Artinfo.com and is scheduled to switch over to a paywall model at the end of October. Additionally, Louise Blouin Media recently hired Bill Fine, formerly the president of the Blouin Index's number one competitor, Artnet.com, and has begun hiring full-time staff writers for Artinfo.com for the first time in years.
As for the success of the foundation, it's harder to gauge. Philanthropy imparts some of the glamour one encounters in the art world, but without acerbic edge. There is no competition, criticism or nasty party gossip, just year-after-year self-congratulatory galas.
According to the foundation's 990 forms, in 2007, it made about $100,000 at the annual creative leadership think tank, but remained $2 million in the hole. Its expenses were covered by loans from LTB Holding and LTB Media. No 990 forms since then are publicly available, and are not required to file if the foundation makes less than $25,000.
Cynical Louise Blouin Media insiders call the nonprofit an ego project—the "Louise Blouin Nobel Peace Prize Fund"—but others swear she sincerely wants to save the world.
From the foundation's output, it's clear she's at least interested in talking about saving the world.
At this year's conference, Ms. Blouin analyzed the global economic crisis as if it were one her company's balance sheets. "I don't want to bore you with numbers this morning," she said, a well cut red blazer strapped tight across her black turtleneck, "but we might have to look at them a little bit.
"At the end of the day, if the economics don't work, and the money is not there, there is no more money for charity," she said.
She might not save the world, but with that attitude, she might save her media company.
"I'm not an economist, and I'm not a politician," she admitted. "I'm an entrepreneur. I build business and turn businesses around."
kstoeffel@observer.com