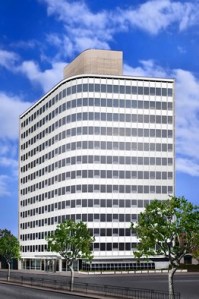 When the Forbes 400 list of richy rich Americans came out last month, the richest New York developer was, as it's long been, Richard Lefrak, with a net worth in excess of $5 billion. That is as much oil and natural gas wealth as it is development wealth—it's all real estate, when you think about it—but perhaps Mr. LeFrak is feeling nostalgic, because he has decided to return to his home turf of Queens, according to The Journal.
There he will build his firm's project in 38 years.
The Manhattan real-estate family's third-generation head, Richard LeFrak, plans to convert a 13-story office tower in Rego Park built by his father 50 years ago into 108 luxury rentals. The project is tiny compared with the family's megadevelopments in the region, such as LeFrak City in Queens and the Newport complex in Jersey City.

[…]

At the same time, the Rego Park conversion is a sign of what may be an important shift in one of the city's storied real-estate families, which famously thumbed its nose at New York in the 1980s and focused its real-estate investments on Newport and other areas. The head of the family at the time, Samuel LeFrak, said he was fed up with bureaucracy and the high cost of development in the city. The LeFraks haven't developed anything in the city for 28 years.
It is something The Observer heard from Mr. Le Frak at the Masters of Real Estate conference we held last month at the Metropolitan club. Along with Mort Zuckerman, Douglas Durst and Harry Macklowe, Mr. Lefrak agreed that New York is the one bright spot in the country, economically and especially in terms of development. "We've begun an island unto ourselves ever more," he said.