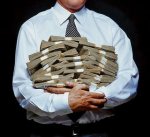 The Center for Responsive Politics is out with a list today of the wealthiest members of Congress. Among those with the deepest pockets include Westchester Rep. Nita Lowey, whose average estimated net worth is listed as over $41 million, and East Side Rep. Carolyn Maloney, whose average estimated net worth is over $28 million.
According to report, about 47 percent of Congress, or 249 current members of Congress, are millionaires.
"The vast majority of members of Congress are quite comfortable, financially, while many of their own constituents suffer from economic hardships," said Sheila Krumholz, executive director of the Center for Responsive Politics.
"It's no surprise that so many people grumble about lawmakers being out-of-touch. Few Americans enjoy the same financial cushion maintained by most members of Congress — or the same access to market-altering information that could yield personal financial gains."
Ms. Maloney and Ms. Lowey aren't the only local members of Congress doing well.  Carolyn McCarthy of Long Island had an average estimated net worth of over $3.7 million and Tim Bishop's net worth was over $1.2 million.
In 2010, the year of the most recently released financial data, the estimated median net worth of a current U.S. senator stood at an average of $2.56 million, according to the Center's research while the median estimated net worth among House members, overall, stood at $756,765 in 2010
The Center's analysis is based on the median values of lawmakers' disclosed assets and liabilities.
Somehow local Reps are positively in the poor house. Nydia Velazquez is listed as close to $150,000 in debt, while Steve Israel was $55,000 in debt.
Compared to the colleagues in the Senate, Chuck Schumer and Kirsten Gillibrand are far closer to the 99 percent.
The Center for Responsive Politics lists Mr. Schumer's net worth as a little over $850,000, while Ms. Gillibrand's is listed as $998,003.
The full report is available here