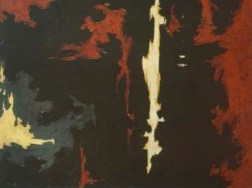 As Gallerist reported last weekend, rumors are swirling that, at Sotheby's last week, the cash-rich Qatari royal family snapped up two of the four Clyfford Still canvases on offer—one for $61 million, the other for $19.7 million—and a $9.3 million Joan Mitchell, for a princely total of about $90 million, and that guarantees were widespread at the contemporary auctions (about half of the lots at Phillips de Pury & Company had a third-party backer).
Now there are whispers that the Qataris may have not only plucked up those works at Sotheby's, but guaranteed them as well. Writes The Economist:
"Up and down Madison Avenue dealers were gossiping… [that] the Qataris had anonymously guaranteed three Clyfford Still paintings in Sotheby's evening sale for a total of $50m (the sum of the three low estimates)."
Since guarantors typically receive a financing fee for agreeing to buy a work at a given price, a percentage of the purchase price above the sum that they agree to pay to back up the work (perhaps 50 percent in some instances), the Qataris could have netted in the neighborhood of $8 million on the third painting, the U.K. magazine estimates, cannily tagging it as an "effective discount on the other two paintings."
If, in fact, the Qataris were the guarantors and the buyers of those two Stills, they would not have received any financing fee, since Sotheby's pays a guarantor only when another party buys the work or works in question.