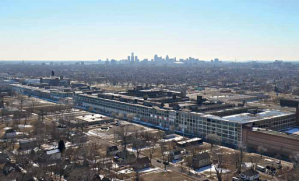 We just received our copy of Detroit: 138 Square Miles, a book of photographs by Julia Reyes Taubman, one of the founders of the Museum of Contemporary Art Detroit, the book's publisher. It is beautiful and overwhelming. An introduction by novelist and Detroiter Elmore Leonard is as fine an explanation as any:
"She focuses on scenes that offer little or no hope, buildings that appear war=damaged, bombed out, but with a positive feeling of history about them. We view the Michigan Central station, its architecture striking but gone to hell and we wonder if it can be restored. Or is it too late?

"There are aerials of empty blocks in the middle of the city gone to overgrown fields; the cemetery still there, no one going anywhere."
It is a large book–one to spend a lot of time with–but even a preliminary glance reveals wonders. Early on is an image of the Detroit Boat Club on Belle Isle, established in 1839; the building is now closed, the wooden bridge leading up to its entrance cracked and rotting , even the gate blocking off trespassers is crooked and lopsided. (Belle Isle was the site of this reporter's uncle's wedding. That was many decades ago. It looked like a different city in those family pictures.)
The images do not exploit Detroit's rough edges; they are merely presented without apologies. On a police desk is a stack of money and a large bag of heroin, a pile of empty evidence envelopes rests nearby, waiting to be filled; a family watches from their front yard as a neighbor's house burns to the ground; the skyscrapers downtown shine and loom in afternoon light, looking somehow both hopeful and menacing; a group of men sits at a roundtable in a bar, laughing over a Budweiser.
There is a lot to see and we could not recommend the book more. There will be a publication party on Tuesday, Nov. 15 at the Whitney.