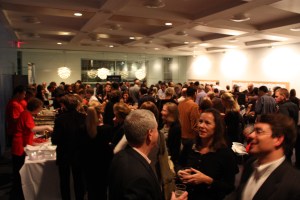 A homicidal Korean family, arm chairs engaging in X-rated intercourse and a tale about a girl's coming of age in the wake of her mother's celebrated career as a German porn star; such were the themes of the short films shown at a very special screening during last Thursday's New York International Children's Film Festival benefit and auction. To the initial surprise of NYICFF organizers, these controversial films were submitted for consideration in this year's 14th annual children's film festival, an annual event which screens 95 films from over 28 countries to a crowd of over 25,000 attendees each March.
But last Thursday's gala was a night to call the babysitter.
The festival's middle-aged benefactors gathered at the Scandinavian House at 85 Park Avenue. While outside, stinging gales and cruel rains blew relentlessly, inside, the low-lit, minimally-designed reception hall kept dry several dozen patrons who hobnobbed and sipped on healthy pours of wine and champagne during the evening's aperitivo. Interns paraded around the room as waiters, offering prawn and caviar h'or dourves
Soon the crowd was ushered downstairs into the screening room where the guests were invited to vote for their favorite films. Festival director Eric Beckman took the stage, thanking the audience for attending the event and honoring festival founder Emily Shapiro. Beckman announced the films with a caveat: these films were not representative of those that would be shown at the festival in March.
"Some Europeans have different standards for what can be shown on screen," said Beckman, by way of explaining the controversial content to an "America [that] does have the reputation for being Puritanical and prudish." He went on to further speculate that the films were "probably inappropriate for most of the adults at the festival."
Inappropriate? To New Yorkers? Do try.
"Roof Sex," a stop motion animation short by American director and long-time NYICFF contributor PES, chronicled the brief affair of a daintily upholstered armchair and chaise lounge frolicking on a city rooftop in various positions until their fabrics ripped evocatively, all to the soundtrack of human voices in ecstasy.  Eventually, the furniture's owner, a crotchety old woman, arrives home to discover her battered furniture, and throwing an angry look her cat, bashes the feline with her broom.
After a prolonged applause from the "Puritanical and prudish" audience, the party returned to the reception hall for a dinner catered by famed Scandinavian restaurant Smörgås Chef.
The auction soon began, moderated by comedian Rachel Feinstein, who recently appeared on Comedy Central's competition Last Comic Standing. "This is going to be nasty!" Feinstein boomed before announcing in a flurry of well-meaning obscenities, that it was her first time moderating an auction.
"For the Children!" became her signature cue to quiet the noisy audience, who were indulging in hefty pulls of Riazul Blue agave tequila, undoubtedly enjoying the brief foray from their day jobs as parents and responsible adults.  The audience laughed along to Feinstein's gentle heckling as they bid on items such as an autographed 30 Rock script and DVD set as well as a Northern California Animation Vacation, an all-inclusive family getaway that was highlighted by a private tour of the Pixar Animation Studio.
When all was crudely said and crassly done, the kids came out to play, though these kids might have been a little too big for the jungle gym.