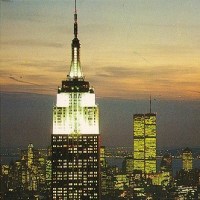 Much as we have been enjoying the work of Michael Kimmelman lately, no one stokes the critical fires like Ada Louise Huxtable. The grand dame of the business, Ms. Huxtable writes all too infrequently for The Journal—only six times a year, but not because that is all the paper will give here but instead it is all she will offer them.
Today Ada Louise offers an especially intriguing look at the Empire State Building and its resurrection, an assessment really only she could offer as few others have the same lens through which to view it, having seen both its grandeur and its decay.
But by 2006 the Empire State Building was part of a money-losing package of buildings of steadily declining value and appeal that simply could not compete with the sleek new towers. An older building, even a celebrated older building, must pay its way. They were controlled by the estate of Leona Helmsley and W&H Properties, now Malkin Holdings LLC. The Malkin family supervises the properties and manages the Empire State Building through its Empire State Building Company LLC. (Don't ask—New York's byzantine real estate investment syndicates defy simple, or any, explanations.) Anthony Malkin, a third-generation member of a family long involved in the industry, believed that the older buildings had "good bones." But he was faced with the decision of whether to cut the losses by selling the entire portfolio, including the star property, or whether to invest heavily in bringing the buildings up to code and up to date. He decided to invest.

[snip]

Real estate is all about risks and rewards, and by any measure Mr. Malkin's ambitious and expensive gamble paid off. The restored and revitalized Empire State Building has some of the highest rents and most sought-after office space in the city. Its new tenants include leading financial, law and communications firms. Preservationists see it as a win for the city's architectural heritage. Mr. Malkin views it with enormous personal pride. "I'd rather be known for making the building a great success than to be known for selling it as a failure."

Jaded New Yorkers, join the international tourists—go. Don't miss the plaques identifying the workers who constructed the building in the 1930s and those who have re-created it for the 21st century. Stop for a quick pizza, or stay for a late cocktail at a cool, upscale bar; both are behind redesigned storefronts in the refurbished side corridors. You might even have your picture taken next to the illuminated model below the celestial celebration of the Industrial Age. Enjoy it all. It is our building, and still the most famous office tower in the world. It is New York.
Goosebumps! (Is it any coincidence this reporter asked his wife to marry him the first and only time they have been up to the tower's imperial heights?)
But what really struck us was Ms. Huxtables thoughts on the Twin Towers, and how inferior they were.
I, for one, am not in thrall to size; build very big and you can build very bad—and the very bad will be inescapable. I always felt that the twin towers disrupted New York's scale and skyline without compensating grace. They were more a sign of the Port Authority's zealous desire to enter the city's high-stakes real-estate game—while overreaching its transportation mandate—than an indicator of New York's greatness.

If they symbolized anything, it was the personal ambition of the Port Authority's then-director, Austin J. Tobin, to construct the world's tallest buildings, something he was free to do because the Port Authority's independent status allowed it to override the city's zoning, code and height regulations. Designed by Minoru Yamasaki, whose forte was delicacy on a small scale, the result was the world's daintiest, most characterless big buildings until disaster restored the city's more familiar skyline. Symbolism was conferred on them posthumously by death and destruction.
The Observer has a thing for Yamasaki, if only because we have only seen his smaller scale projects in person—the gravity-defying Rainier Tower in Seattle is one of our favorites, though if it really qualifies as small we're not sure. Regardless, who but Ada Louise Huxtable could so succinctly cause us to question our stirring thoughts about these two New York City icons? Your move, Mr. Kimmelman.