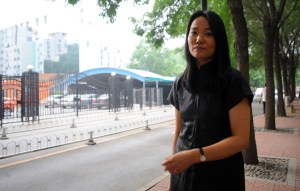 Ai Weiwei's wife Lu Qing was taken to a police station in Beijing earlier today, The Guardian reports, where she was questioned for three hours before she was released without incident. Mr. Ai was not home at the time, but said he feared the police may be trying to build a new case against him.
"It seems they are doing broader research or something," he told the paper. "I have no idea."
Mr. Ai was detained for 81 days this spring and then slapped with a fine for $2.4 million, allegedly in back taxes. Supporters were quick to chip in to help with the tax bill, but Mr. Ai still faces a number of legal hurdles and has been outspoken about what he believes to be his victimization at the hands of the Chinese government.