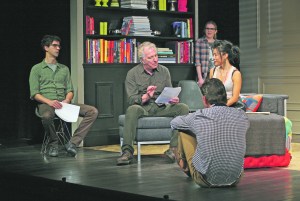 I've never been a fan of Alan Rickman's tight-lipped, prissy-mouthed acting style, but sometimes he picks a role that fits like a knee-high nylon sock, in a play that suits his nasal, slanty-eyed mannerisms with the sound of two hands clapping instead of one. The result in Theresa Rebeck's Seminar, at the Golden, is a blessing. In fact, the entire cast of five is a marvel of well-oiled introspection, which is certainly a good thing, because without them, the enjoyable but often untidy and uneven play would be nothing more than a lot of clever one-liners.
Mr. Rickman plays Leonard, a sour, disillusioned, once-respected author who mysteriously gave up writing to take up copy editing at Random House. Impoverished and bitter, he now teaches writing workshops for pretentious young hopefuls with ambitions to write the great American novel. His current seminar is set in an $800-a-month rent-stabilized apartment on the Upper West Side with nine rooms and a river view belonging to one of the four students in the class who have shelled out $5,000 apiece to impress each other by dispensing earth-shattering undergraduate proclamations such as "Kerouac is a misogynist hack" and "Post-modernism has really fallen on hard times." The students are Kate (riveting Lily Rabe, who looks more like her mother, Jill Clayburgh, every time I see her), the wealthy, overeducated pseudointellectual Bennington graduate whose apartment serves as a makeshift classroom; Izzy (Hettienne Park), an Asian sexpot whose ambition is to write the kind of steamy stuff that will land her on the cover of New York magazine and bares her breasts to prove she's ready for the task; Douglas (Jerry O'Connell), a preppie dude who learns to his horror that he's cut out for nothing better than junky Hollywood screenplays; and Martin (Hamish Linklater), a skinny snob who annoys everyone by acting like a member of the semantics police ("Inigo! You said 'Indigo Jones.' It's Inigo!"). Secretly, they all want to win the approval of their teacher, but what they get is humiliation, insults, discouragement and a torrent of colorful four-letter words that reduces them all to little more than literary larvae. Ms. Rebeck cusses more than David Mamet, but is more amusing than deadly.
Nothing they come up with discussing and dissecting each other's work rouses the hooded eyelids of their pompous ass of a leader. He calls them whores, dismisses their stories as hollow and chides them for knowing nothing about what they are writing about—like, for instance, the world. He has traveled the globe rubbing elbows with HIV patients, Rwanda genocide survivors and "a Russian prostitute of indeterminate gender" who inspired him. Why can't they experience life before they attempt to describe it in a "soul-sucking waste of words"? A story Kate has been working on for six years is trashed in one sentence for lack of relevance. ("I don't have to go beyond the first five words, because I don't give a shit!" he attacks.) While Leonard takes a two-week break from the 10-week seminar to inspect the damage in Somalia, the group begins to suspect maybe they're being ripped off. Since no seminar I've ever attended in the craft of fiction writing (or anything else) has ever been taught by such a cruel, mean-spirited sadist, I began to suspect Ms. Rebeck's plausibility quotient is lacking.