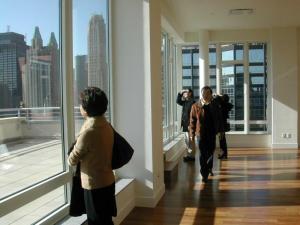 An attractive young woman in a dark pantsuit is pacing the edges of demolished urban lot, chanting quietly and gently tossing grains of vodka-soaked rice while development executives looked on appreciatively, smiling beneath their ceremonial hard hats as an ancient ritual is performed on the site of their newest project.
If the scene sounds bizarre, it is also almost surely a glimpse into the future of New York City real estate
"Everyone can benefit from good energy," said Eric Benaim, President of Modern Spaces, whose company has enlisted the services of "Certified Feng Shui Consultant" Laura Cerrano of Feng Shui Long Island to advise them on every facet of the design and construction of Vista Court, a 15-story residential building on Purves Street just south of Northern Boulevard. But while Mr. Benaim might very well be correct, every trend in city real estate would point to the fact that Modern Space's decision to feng shui its newest project is being made with explicit intent to attract the most sought after buyer in today's market; the Chinese.
Roughly $30 billion was invested in New York City real estate during the last year alone, making it the premier city in the world in that category, outpacing London, Tokyo, Paris and Hong Kong. A vast amount of that investment capital came from overseas, with European, Pacific Rim and South American investors, but Chinese investors are widely believed to be leading the way.
According to the United States Bureau of Labor Statistics, since 2001 the relative value of the Chinese Yuan to the US dollar posted an increase of almost 23%, a figure that demonstrates both the plummeting buying power of the U.S. economy and the surging power of Chinese consumers. Simply put, New York City has never come cheaper to a foreign investor like it does now to the Chinese.
"International buyers keep our market alive," says Amy Williamson, Vice President of sales for Prodigy Network, an international real estate company. "Whether it's welcomed locally or not, it's a fact of this global economy."
What has become important is the skill set required to attract, understand and better serve the potential Chinese buyers that are in the market, flocking to New York in droves. Those skills are especially important in a market as deep and convoluted as New York City's, where even lifelong locals have found themselves lost in the sheer volume of geographic choices and uniquely local, bureaucratic minutiae.
"New York City has always been a favorite of Asian Investors, like the Japanese in the 80's and so forth," explains Michael Chen, an Asian market specialist at real estate firm BOND New York.
Mr. Chen is referring to the boom of Japanese investment into New York City real estate during the 1980s and early 90s that was characterized by the 1989 purchase of a 51 percent interest in Rockefeller Center for $846 million (in cash) by the Tokyo-based Mitsubishi Estate Company, a deal that set off a mini-panic for those in fear of Japan's growing comparative power.
Although that era of anxiety dissipated as the American economy rebounded (Rockefeller Center was re-acquired in 1995 by a partnership led by David Rockefeller and Goldman Sachs), the New York City real estate market continued to rely rather heavily on investment from foreign buyers, especially from Europe, where the climbing value of the newly-minted Euro made Big Apple pied-a-terres a "must have" for wealthy jetsetters
"International buyers have been an enormous part of the New York real estate for decades," agrees Ms. Williamson who pointed to the positive sustaining force that European buyers have had on SoHo since the late 1980's.
The spotlight that formerly shone brightest on the European purchaser of pied-a-terres has been filled by the Chinese buyer—buyers who have not so much stepped forward to steal attention and sale but rather who have had that spotlight thrust upon them as the European actor stepped back from the spotlight in the face of financial collapses in Greece, Spain, Ireland and other members of the "Eurozone."
"These Asian investors aren't suddenly buying that much more, the global economy just changed the numbers to show a dramatically greater amount of them," Mr. Chen said.
But whether it is an illusion by comparison, or a full-scale stepping up of investment activity, the hard reality is that Chinese buyers are a dominant force in the New York City real estate market. Brokers throughout the city are learning daily what Chinese buyers want most and doing everything they can to offer it, putting the most appealing bow on that most au courant Chinese status symbol—a Manhattan luxury condo.
"People in China can't buy financial products, so when the people who make money there look immediately to real estate outside China," he explains. "There just aren't a lot of other things for them to buy.
And both Mr. Chen and Ms. Williamson agree that the ability to understand the needs of Chinese buyers is a tool that they need in their metaphorical toolboxes to succeed in this new market where these particular buyers will need a broker that understands both their needs and the often-bizarre realities of New York City real estate.
"Neighborhoods and new construction are universal to foreign buyers from any continent," says Ms. Williamson. "Apart from buyers looking for something specific like a townhouse, most international buyers are looking for newer construction. Especially branded real estate like W Residences or anything Trump."
But while Chinese buyers will probably love 'Trump SoHo,' they also have distinctive needs from a stereotypical European buyer.
"Chinese buyers are often interested in feng shui, and there can be issues with numbers," explains Ms. Williamson, alluding to Chinese belief system that there are "auspicious" (or lucky) and "inauspicious" (or unlucky) numbers, which can dictate which floor of a high-rise that they would chose to by into.
And that need to understand the needs of clients goes both ways according to Mr. Chen who has developed a system of working with potential Chinese buyers that relies heavily on spending an unusual amount of time with clients discussing their desires and matching them up best with specific neighborhoods and buildings they might not have been aware of as foreigners.
"I showed a property to potential Chinese buyer looking to be a landlord for long-term gain," says Mr. Chen citing a recent example of his own experience. "He was very specific about what he wanted and where he wanted it. The guy had done his homework, I was very impressed."
But, this being New York City, nothing is that easy and Mr. Chen taught his prepared client that lesson the hard way.
"I had to spend hours explaining rent control," say Mr. Chen with a weary laugh.
So, standing in that Long Island City lot, watching Ms. Cerrano burn sage, bury red silk pouches and toss Smirnoff-soaked rice, one sees not just the modern embodiment of an ancient ritual, but a calculated prayer for the future of the most crucial real estate market in the world today.
tmcenery@observer.com