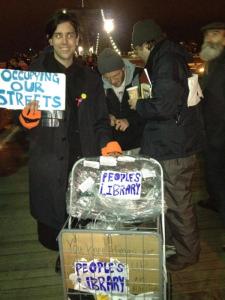 The American Library Association has issued a statement expressing its support for the Occupy Wall Street People's Library. Most of the 5,000 volumes in the People's Library did not survive the razing of the encampment at Zuccotti Park on Tuesday morning.
"The dissolution of a library is unacceptable," wrote ALA president Molly Raphael in a statement. "Libraries serve as the cornerstone of our democracy and must be safeguarded. An informed public constitutes the very foundation of a democracy, and libraries ensure that everyone has free access to information."
Since the raid, the People's Library has taken to operating with individual mobile units. The Observer encountered one library cart on the march across Brooklyn Bridge last night, and today in Zuccotti Park protesters gathered around a box of books and a spread of pretzels and marshmallows.