Amira Yunis, a top retail leasing broker in Manhattan, is leaving Newmark Knight Frank for CBRE several sources say.
Ms. Yunis brokered a number of notable transactions with major retailers during her tenure at Newmark, where she rose to the rank of executive vice president within the company's retail leasing arm.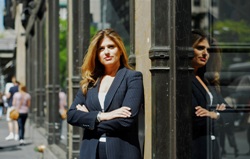 In 2005, she brokered a deal to have the grocery chain Trader Joes come to a location in Union Square, a transaction for which she and her co-broker in the transaction Newmark's president James Kuhn were honored with an award from REBNY. The deal was the first lease that Trader Joes signed in the city and opened the door for several subsequent transactions in Manhattan.
More recently Ms. Yunis leased an 8,500 square foot space at the Fred French Building to the clothing retailer Tommy Bahama. In the spring, she represented the party goods chain Party City in a 13,000 square foot deal at 100 West 93rd Street.
CBRE has a number of successful retail leasing brokers, including executives Andrew Goldberg and Richard Hodos. But the firm, which is the world's largest real estate services company, has not dominated the retail leasing market the way it has with office brokerage. Ms. Yunis would appear to add depth to the company's pool of talent.

Ms. Yunis's hiring is one of the highest profile defections in the city's retail brokerage business in recent years.
The former model is also one of the most prominent executives to step down from Newmark since the company was acquired last month by BGC Partners. In recent weeks, BGC issued contracts to Newmark brokers requiring them to convert portions of their commisions into stock in the company.
It wasn't clear by press time whether Mr. Yunis's departure had anything to do with Newmark's recent acquisition or the mandatory stock offering.
Ms. Yunis could not be reached for comment.
Representative from CBRE and Newmark couldn't be reached.
Dgeiger@Observer.com