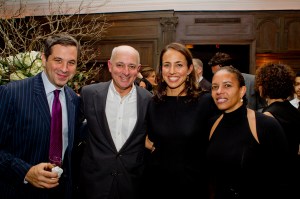 On Thursday night, the newest editor-in-chief in the Conde Nast pantheon, Brides editor, Anne Fulenwider posed for a photograph with her new bosses, executives John Bellando and Jill Bright, and her husband Bryan Blatstein. As they arranged themselves, a drink slipped out of hand, shattering upon impact and splashing the celebrants with champagne.
"Mazel Tov!" someone behind us said, while the foursome stood still, smiling stoically as a server swept the shards out of the frame.
That joke was the only sign of Ms. Fulenwider's nuptial subject matter at the debut party, hosted by Conde Nast chief executive Chuck Townsend and president Robert Sauerberg, where a healthy mix of men and women ate sliders at John DeLucie's Upper East Side gentleman's club, Crown.
But the setting befit Ms. Fulenwider, an editor trained at highbrow general interest titles Paris Review and Vanity Fair and most recently Joanna Coles's No. 2 at Marie Claire, among the more journalistically ambitious women's magazines.
Off the Record explained as much to wedding cake master Ron Ben-Israel, beside us in a makeshift receiving line.
"And so pretty!" he replied.
Dressed in a black boat-neck dress, Ms. Fulenwider explained that she had jumped at the opportunity to speak to women—"Brides are women," she noted—at a happy time in their lives, but also a moment when they really need guidance.
Since the business of getting hitched ballooned to an estimated $72 billion industry, advising brides has become a rich media market for Conde Nast and its competitors, everything from TLC's runaway hit 'Say Yes to the Dress' to The Knot, the print and digital bridal media empire that started as an AOL web portal.
Ms. Fulenwider's arrival at Brides marks a major overhaul of the service brand. She replaced longtime editor Millie Martini Bratten, and longtime publisher Carolyn Kremins was replaced by Lucky's Michelle Myers. Conde Nast has folded the sixteen regional Brides Local magazines and made Ms. Fulenwider the first Brides editor in chief to oversee its digital and print operations, following the resignation of Julie Raimondi.
"Before a woman gets engaged it's all about getting the man," Ms. Fulenwider explained. "Once she's engaged she has the time to relax and think about how she's going to express herself through her wedding and the rest of her life."
For her own wedding, Ms. Fulenwider expressed herself in a field in Martha's Vineyard overlooking the ocean.
"It happened a long time ago, but I still pray for good weather on that day, as if it could change," she said.
As for how she'll express herself in Brides, look out for her redesign in May.