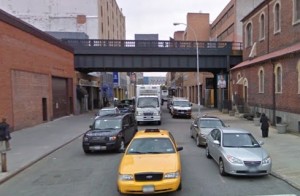 Juliet Supper Club, the Chelsea nightclub where a 23-year-old was murdered back in September, was the site of another murder early Monday morning this week. A 43-year-old man was pronounced dead on arrival at Bellevue Hospital after a shooting that took place inside the club. A 28-year-old man who was also shot is in stable condition. The club is on the same block as prominent Chelsea art galleries Paula Cooper, Barbara Gladstone, Tanya Bonakdar and a branch of Gagosian.
DNAinfo says, "According to several event listing sites, the club regularly hosts 'Just Chill Mondays,' featuring a DJ and no cover." It is known for its celebrity clientele.
DNAinfo also reports that a woman claimed on Twitter that she was also shot, but a spokeswoman from the club told them the woman had instead cut her leg on a piece of glass while trying to exit.
The club increased security after Christopher Adames was found stabbed to death on the street outside in September.   The new procedures include bag checks, coat checks and a frisking by security guards. Authorities charged a promoter involved with the club in the stabbing homicide.