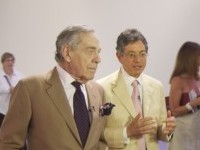 Shortly after entering Art Basel Miami Beach this afternoon, we spotted Naomi Campbell chatting with Diddy (who was wearing some sort of leopard-print sweater and a sling) in an aisle not far from Acquavella's booth.
Moments later, we had an even more thrilling sighting, as we watched 60 Minutes correspondent Morley Safer chatting with Museum of Contemporary Art Los Angeles director Jeffrey Deitch (in a natty pale yellow suit), walking past Paula Cooper's booth.
Mr. Safer, you may recall, has delighted in lampooning the contemporary art world over the years, perhaps most memorably in 1993, when he referred to much of the art being made today as "worthless junk," and also shared this bon mot about collectors in an interview with Carol Vogel in The New York Times:
"These are people with disposable income who dispose of it in a curious way. They buy art as appendages to show how wealthy they are. We weren't talking about connoisseurship."
Give Mr. Safer's appearance here at Art Basel, it seems safe to say that he is readying another program on the state of the art world. He and Mr. Deitch appeared to be getting on rather well, but we have no doubt there will be some fireworks.