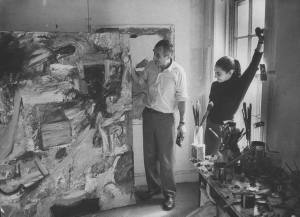 The Abstract Expressionist painter Pat Passlof passed away on Sunday at age 83, The New York Times reports.
The painter part of the New York School, and was married to another of its members, Milton Resnick. The two lived in converted synagogues for most of their marriage, keeping their own space in an ethos not entirely dissimilar from that of Frida Kahlo and Diego Rivera.
"Why are you interested in two of the least domestic people in the world?" Ms. Passlof teased The Times during a recent profile of her synagogue home.
A long-planned show of Ms. Passlof's work opens on Saturday at the Elizabeth Harris Gallery in Chelsea.