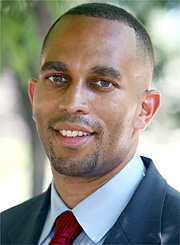 "I don't want to beat-up on the police, but when is enough, enough?"
New York State Assemblyman Hakeem Jeffries was responding to The Observer's question last night regarding the problems the NYPD has been having of late. The "Barack of Brooklyn," as he's been billed, stood at a microphone in the corner of the dimly-lit back room of the Belmont Lounge on East 15th Street, addressing mixed-bag of constituents at an event hosted by Democratic Leadership for 21st Century, and this was the first time all night that he broke from his otherwise measured, tempered demeanor.
"The culture of corruption that we've seen explode onto the scene over the last several weeks is frightening," said Mr. Jeffries. "We got cops who've been indicted for gun-running. Some of those guns could have even been used to kill or shoot at other cops. We got an officer on trial in Staten Island for planting drugs on an individual who was stopped, questioned, and frisked, and who objected to it because it had happened multiple times… And the officer made the decision to plant drugs, it appears, on that individual to legitimize the stop-and-frisk encounter.
"We've had seven narcotics investigators, not just indicted, but convicted of planting drugs on innocent law-abiding citizens, the most recent of which was when crack-cocaine was planted on two individuals, a couple, in Coney Island, and the judge who convicted the officer said that this is not isolated, but that it is, based on the evidence that he has seen, frighteningly commonplace."
Since being elected to the State Assembly in 2006, Mr. Jeffries has been an outspoken advocate for doing away with stop-and-frisk. In 2010, he sponsored legislation that prevented those who were stopped-and-frisked and found to be clean from having their personal information entered into an electronic database.
Now, with alleged ticket-fixing, gun-running, pepper-spraying, and evidence-tampering sullying the reputation of the NYPD, Mr. Jeffries is calling on Mayor Bloomberg to appoint a commission with subpoena power to investigate the scale and scope of unlawful activity within the department.
"The idea being that they can then make meaningful recommendations that the Mayor and others can implement in order to reform the Police Department and get us the department we deserve, free and clear, to the extent possible, of those who are engaging in the unlawful activity," the Assemblyman explained. "It's not unprecedented in New York City. We've done this in the seventies and we've done it in the nineties in the face of corruption scandals that exploded onto the scene in those decades."
The rest of Jeffries Q&A ran the gamut of hot-button Democratic NYC issues, all the way from economic inequality and low-income housing initiatives to MTA and education reform.
One attendee who said he works at an education reform organization asked for the Assemblyman's take on charter schools. Mr. Jeffries responded by emphasizing the usefulness of charters as a place for educational experimentation, only as long as the same type of students—including those with learning disabilities—are in both the charter schools and the traditional public schools, creating a model in which the success stories can then be exported across the entire system.
"An example that I use sometimes is Phil Jackson," said Jeffries, "who many people believe is the most successful coach in the National Basketball Association. Phil Jackson has won 11 championships, more than any other coach in NBA history, but he won all 11 of those championships with people named Jordan, or Pippen, or Bryant, or O'Neal. Now, I'm not clear that that provides meaningful evidence that Phil Jackson is a tremendous coach. Prove to me that you can win some championships with the New Jersey Nets and we've got something!"
A round of laughs rang through the room. (The Observer wondered if perhaps Mr. Jeffries hoped Jackson would take the job when the Nets move to his hometown of Brooklyn in 2012.)
Mr. Jeffries doesn't plan on hanging around Albany forever. Though he has yet to formally announce his candidacy, in late September he opened a congressional exploratory committee and began taking donations. The seat he has his eyes on is New York's 10th Congressional District, which has been occupied by Representative Edolphus Towns for nearly three decades.
"[Rep. Towns] has had a long time to try to effectuate change in the district, large parts of which suffer from high crime, high unemployment, high infant mortality, high drop-out rates, a district where large parts of the community are suffering in a meaningful way," said Mr. Jeffries when asked if he would indeed run. "And after 29 years of having had the opportunity to do all that you can to make a difference in the lives of the individuals you represent, I'm of the opinion that the time has come perhaps to move in a different direction."
cclemans@observer.com