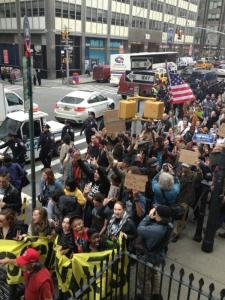 Following a night of chaos during which the NYPD evicted Occupy Wall Street protesters from Zuccotti Park after two months demonstrations, hundreds of protesters began marching back to the park—an American flag salvaged from the camp leading the way—vowing to retake the territory.
This follows the issuance this morning of a temporary restraining order by the State Supreme Court prohibiting the eviction until a hearing scheduled for 11:30 a.m.
The rallying cry: "Let's go home!"
The energy in the crowd was giddy and charged, suggesting that Mayor Bloomberg's decision to clear the park may inadvertently have provided a powerful boost to the movement just as protesters were settling in for an exhausting grind through the winter months.