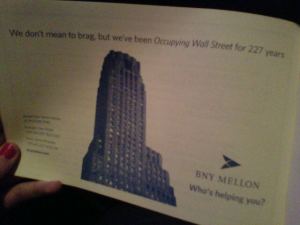 Last Friday, New York hosted the Financial Follies: a night for financial journalists to all get together and party. (Always sounds like a blast, sorry we missed it.) Supporting the Follies this year was BNY Bank, which participated in the event by creating this mock ad for the program.
Check out the full-size version below! (Photo courtesy of Wall Street Journal's Kelly Evans, who tweeted it with the caption "Cringe.")

Gawker picked up on this LAFF RIOT and received a terse response from BNY Mellon spokesman Kevin Heine:
The ad was created specifically for the Financial Follies, an annual event hosted by the New York Financial Writers Association, which was founded to raise the standards of financial journalism and to provide education scholarships and support for former writers in need. The event is well known for its irreverent and off-color skits and spoofs of current events and financial newsmakers, as well as the humorous ads that sponsors are encouraged to place in the event program. BNY Mellon is proud to be a long time supporter of the Association and the Financial Follies, which over the years has raised many millions of dollars. The ad was created for one time use in the Follies program — and, anyone familiar with the event would understand that.
This doesn't seem directed so much at Gawker as Heines for breaking the oath of silence one takes when RSVPing to Financial Follies. What's even sadder is that it isn't even that far off the mark: Only Business Insider wrote about the ad (and they used Ms. Evans their source), so either every other financial outlets found this ad hilarious, or didn't want to rock the boat by reporting on it.