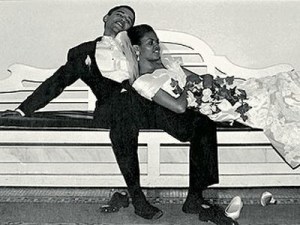 Capitol Hill staffers make up a disproportionate amount of the New York Times wedding announcements, according to a piece on Roll Call today.
The Times selects just 30 couples every week from a pool of 200 submitted nuptials, according to the article, but legislative directors, committee counsels and "those at the top of the Capitol career ladder" sneak in roughly twice a month.
Even Republicans jockey for a spot in the left-leaning Times.
Will Kinzel, a policy adviser for Speaker John Boehner told Roll Call he chose it over his hometown paper because it's "an iconic kind of thing."
Indeed,  the only thing that matters more than political affiliation on Capitol Hill is status, also the organizing principle of the weddings pages.
Unlike other marital columns, the Times pages is not dedicated to meet-cutes and tear-jerky romances. It's like "Mad Libs" for the career-oriented, author Kristin Broughton writes.
"The basic premise is that we're looking for people who have achievements," weddings editor Robert Woletz wrote in 2009.
And where D.C. resumes are a little dull, proximity to elected officials can add the necessary glamor.
"A lot of times we'll tell clients that name-dropping will help get their announcements chosen," a D.C.-area wedding consultant told Ms. Broughton.
And unlike the Washington Post–and Congress!–you can't buy your way in.