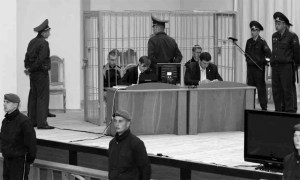 The Seventh Berlin Biennale is shaping up to be a wild one.
Organizers announced that the associate curators of the exhibition, which opens in April 2012, will be the venturesome Russian art collective Voina and Polish curator Joanna Warsza.
Artist Artur Żmijewski, who is perhaps best known for making a video that involved re-tattooing Holocaust survivors with their identification numbers, was appointed curator of the biennale last year.
Ms. Warsza runs the Laura Palmer Foundation, a nonprofit that organizes various exhibitions and art projects and is–no, we are not joking–named after the fictional central character in David Lynch's early 1990s television show Twin Peaks.
Voina, for its part, is best known for outré interventions and performances–like flipping over police cars and painting a gigantic penis on a drawbridge–that have regularly earned the wrath of Russian officials.
In other news, the biennale has issued a statement calling on Belarus to end capital punishment. It is last country in Europe that allows the death penalty.