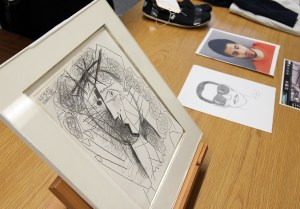 Little did San Francisco gallery owner Rowland Weinstein know, but when Mark Lugo, the Tri-State area's own Thomas Crown-if-Thomas-Crown-Lived-in-Hoboken, walked off with a drawing by Pablo Picasso this summer, he was actually doing Mr. Weinstein a favor. Since then, according to an interview with The San Francisco Examiner, business has been great!Mr. Weinstein estimates that at least ten people "every single solitary day" come into his gallery to ask about the 1965 drawing Tête de Femme. Mr. Lugo was caught with a hoard of other stolen paintings and sentenced to 16 months in prison for the Picasso theft alone. He will soon be extradited to New York to be tried for the other thefts.
"It's become such an important part, not just of our story, but I think the story of artwork in San Francisco," said Mr. Weinstein.
Mr. Weinstein no longer plans to sell the drawing. He says he has turned down an offer of $375,000, up from a pre-theft price of $122,500.