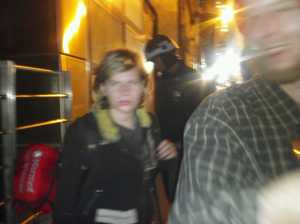 At 1:15 this morning, Occupy Wall Street sent out a press release that they had been surrounded by the NYPD, which was clearing the park: "Liberty Square (Zuccotti Park), home of Occupy Wall Street for the past two months and birthplace of the 99% movement that has spread across the country and around the world, is presently being evicted by a large police force."
Three minutes later, the mayor's office said as much, and not much else, on Twitter: "Occupants of Zuccotti should temporarily leave and remove tents and tarps. Protestors can return after the Park is cleared."
The Observer's Hunter Walker is as close as you can get to the scene: "NYPD is blocking press and others from immediate vicinity of Liberty Plaza" he reports. "Here with credentialed photogs from NYT, WSJ and Reuters they're also being barred from #occupywallstreet." From his vantagepoint at Trinity and Thames Streets, he can see NYPD carrying protesters out of the Zuccotti Park.
A protester named Casper Michaels told The Observer that the NYPD announced the eviction via megaphone. According to Michael, the NYPD warned "Erecting structures or storing of personal belongings is prohibited in Zuccotti Park…The abundance of items in the park is a fire hazard. Any belongings left in the park will be removed to a sanitation warehouse," and that "After inspection you will be permitted to return."
UPDATE 3:43 a.m.:
The Observer has confirmed that City Councilman Ydanis Rodriguez was arrested. Rodriguez's press secretary David Segal told The Observer: "City Hall knows that he has been arrested. They have put in a call to the NYPD to see his status." As for a report that Rodriguez was injured while being arrested, Segal was unable to confirm, but told The Observer that a member of Councilman Jumaane Williams's staff had told Segal that he witnessed Rodriguez being beaten.
UPDATE 7:12 a.m.:
Mayor Bloomberg released a statement explaining his decision—he stressed it was his decision—to clear Zuccotti Park this morning. Brookfield has yet to comment on last night's unexpected turn of events.
Updates from the @NewYorkObserver Twitter feed:
Walking with group of about 30 protesters marching South Down Trinity chanting "We are the 99%" twitpic.com/7eerhd
Groups of marchers are coming together at Trinity and Broadway.
About 50 protesters have arrived at barricade on Trinity and Pine they are doing a "mic check."
"What would be so illegal for us to walk peaceably to Liberty Square? What would be edangerment of the public, of which we are."
2:40 a.m.
Last Tweet is what a protester shouted via "people's mic"
2:41 a.m.
"Officers, you are in violation of every constitutional right." – Man shouting via "people's mic"
2:44 a.m.
Protesters and police shoving each other at Trinity and Pine where NYPD is trying to let one of their trucks out of Zuccotti Park.
2:45 a.m.
Protesters and police facing off at barricade at Trinity and Pine where NYPD is attempting to send trucks. twitpic.com/7eet5t
2:49 a.m.
We are sandwiched between angry protesters & NYPD police at barricade on Broadway and Pine. Earlier Tweets should have said Bway not Trinity
2:52 a.m.
We called and texted Deputy Mayor Howard Wolfson on his cell no response so far.
2:54 a.m.
One protester in this group asked "Is something going on @ Bway & Wall" Another answers: "That's right here, I think they mean us."
2:54 a.m.
Protesters are telling the police @ #occupywallstreet barricade "You are no longer heroes" "we're here for you"
2:56 a.m.
Crowd at barricade on Broadway and Pine twitpic.com/7eev2s
2:56 a.m.
Man up here on pole with me says "They're trashing the tents in Zuccotti Park."
2:57 a.m.
Here with an NBC cameraman who's also not being allowed to pass "Our live truck can't even get through."
3:02 a.m.
Just ran into Moe, our favorite ex-bartender from Bar Reis in BK. She's National Lawyer's Guild rep. They're unsure if arrests have begun.
3:05 a.m.
Protester tells us NYPD distributed flyers warning them to leave for cleaning. We are headed to Foley Square.
3:12 a.m.
NYPD is moving garbage trucks into Zuccotti Park at Broadway and Maiden. twitpic.com/7eey9o
3:17 a.m.
[Editor's note: There is a report that City Councilman Ydanis Rodriguez was "beaten by the NYPD and is bleeding from the head"]
Just woke Councilman Rodriguez' press secretary he was unaware of any situation. "I knew he was heading down there." Waiting for more news
3:19 a.m.
Two policemen just chased me down John Street. "The block is closed" "You guys are acting like children"
3:20 a.m.
Just spoke with credentialed CBS reporter Manuel Gallegas outside barricade "They're kicking everybody out, write about it."
3:23 a.m.
Corner of Broadway and Fulton http://twitpic.com/7ef099
3:27 a.m.
The gates at City Hall Park are locked and candles are lit. We are headed to Foley Square.
4:07 a.m.
We were headed to Foley Square where protesters are regrouping but turned back to Broadway and Pine because of reported violence
4:09 a.m.
Our cell phone battery is getting low but we'll stay even if updates cease
4:10 a.m.
Police are shoving #occupywallstreet protesters away from the corner of Broadway and Fulton twitpic.com/7ef903
4:12 a.m.
We are being stopped by police from going further South on Broadway along with a credentialed Japanese TV crew.
4:14 a.m.
Full story: Councilman Ydanis Rodriguez Arrested, Injured at Occupy Wall Street Raid
4:15 a.m.
Police sergeant confirmed to us that NYPD Commissioner Ray Kelly was at #occupywallstreet raid tonight. "I don't know if he's still there.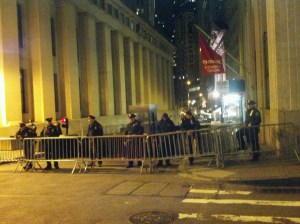 4:17 a.m:.NYPD officers guarding the Stock Exchange at Pine and Nassau twitpic.com/7efab2
4:20 a.m.
Large crowd gathered at Broadway and Pine chanting, "Stand up! Fight back!"
4:29 a.m.
Update from the corner of Broadway and Pine:
Protester Allegra Frierson, 21, from Augusta, GA says she's been here six days and was in Zuccotti Park for the eviction. Her face was red and eyes tearing
"Everybody was sprayed it was just a chemical sprayed in the air it was wafting through the crowd… They were tackling people, it was unnecessary… Police were dragging people out by their hands and feet it was horrible." She said the police threw out peoples belongings and sleeping bags. "They picked up a guitar and threw it into the crowd."
Protesters are currently in a large group at the barricade on Broadway and Pine, chanting "Let us through!"
It is not yet clear why the city is clearing the park at this time, but scenes from Zucotti are being live-streamed by the Occupiers: