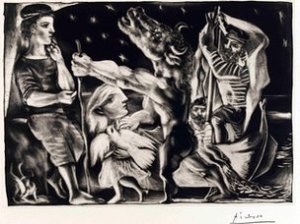 The British Museum announced today that, following a gift of $1.6 million, it has acquired a major collection of etchings by Pablo Picasso made between 1930 and 1937.
The 100 etchings, known as the "Vollard Suite" were commissioned by the French dealer and publisher Ambroise Vollard, who gave Picasso a Renoir and a Cezanne for the sketches. The works are something of a diary, and apparently include many images of the artist's young muse Marie-Thérèse Walter.
Most individual Vollard etchings seem to go for about $10,000 on Artnet so the $1.6 million price for the entire collection sounds about right. The purchase follows a gift from one Hamish Parker, who made the donation in memory of his father Horace Parker, a fan of the museum.
Mr. Parker is described as a "fund manager" by the BBC and if he's the only Hamish Parker in London, may have once written a letter to The Daily Telegraph about public funding for ducks in the park. He is not to be confused with New York gadabout Hamish Parker-Bowles.