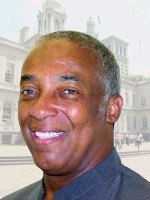 Charles Barron will officially announce his campaign for Congress with a news conference and rally announced via Facebook.
Black Star News found it first:
The official declaration will be made on November 27, 2011 at 3:00 PM at the newly renovated Sonny Abubadika Carson Park which was funded by Councilman Barron and is located at the corner of Vermont Avenue and Linden Blvd, East New York, Brooklyn.

Since 2001, Barron has served the 42nd District, inclusive primarily of the East New York/Brownsville community and New York City at large. His many achievements include building the most affordable housing of any New York City Councilmember. 

His other achievements are: targeting of the Meals on Wheels program for restoration to the city budget for seniors in his district; in collaboration with the New York City Housing Authority, securing $12.5 million for an East New York Recreation Center, and;  fighting to obtain $1.2 million for the renovation of Sonny Abubadika Carson Park (Linden/George Gershwin) in his district.

Additionally, as chair of the Higher Education Committee, Barron spearheaded the restoration of over $10 million for students at the City University of New York colleges.  He was also successful in maintaining the Peter Vallone Scholarship awards for CUNY students.
As a programming note, the Vallone scholarships were cut last year in what widely assumed to be a beef between Council Speaker Christine Quinn and Mr. Vallone's son, Peter Vallone, Jr.   In an interview, Mr. Barron said that the scholarship was in place every year that he was chair of the Higher Education committee (he was stripped of his gavel after getting into a dispute with a member of the CUNY board.)
On Sunday, Mr. Barron said, "I will lay out a plan for victory and why I think I am the best candidate in the race."
The seat Mr. Barron is running for is currently held by longtime incumbent Ed Towns. Assembly member Hakeem Jeffries is also taking a look at the race.