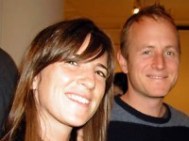 Chelsea gallery Taxter & Spengemann announced today that it will close its doors at the end of 2011. "Thank you for your support, enthusiasm, and interest in all we have done the past nine years," directors Kelly Taxter, Pascal Spengemann, and Carolyn Ramo wrote in an e-mail to the gallery's mailing list.
Taxter & Spengemann was opened by Bard Center for Curatorial Studies graduates Kelly Taxter and Pascal Spengemann in 2003.
Among the artists the gallery currently represents are Frank Benson, Xavier Cha, Matt Johnson, Andrew Kuo, Carter Mull and A.L. Steiner.
Reached for comment, the gallery declined to discuss the circumstances that led to the decision, however gallery partner Carolyn Ramo told Gallerist that it had been decided very recently, and was not due to any problems with the partnership among Ms. Taxter, Mr. Spengemann and herself; with the artists; or with the "vitality of the business."
Ms. Ramo added that it was a "difficult but necessary decision. We are proud of our accomplishments and the legacy we are leaving."
Ms. Ramo said that the gallery's artists have not yet made decisions about what galleries they will go to. We will keep you updated.