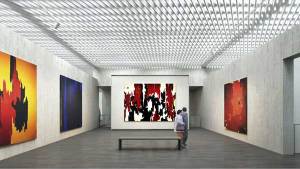 The Clyfford Still Museum opens this weekend in Denver. It's not your typical museum, but it's what the artist wanted.
According to The Art Newspaper, Still wrote in a one-page will that his estate should remain in storage until an American city built a museum to house his art "exclusively." The article says, "There were explicit requirements that none of the works 'be sold, given or exchanged' and that they should be preserved 'in perpetuity for exhibition and study.'"
So: don't go to the Clyfford Still Museum looking to see some Rothkos.
The building houses 2,400 works and is 30,000 square feet. The artist had a reputation for not really loving the commercial art world. In his lifetime, there were only three retrospectives of his work. Still's widow turned down 20 cities including New York , San Francisco, Washington D.C., Still's hometown of Fargo and, uh, Denver. She rejected their offer in 1999, but the city's mayor convinced her in 2004 to go ahead with the museum.
We find the idea of a big perpetual art exhibition by a single artist kind of soothing. Still once said seeing his work in its entirety was like "a symphony."