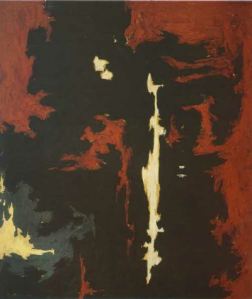 Against the backdrop of Wednesday's dramatic three-percent drop in the Dow Jones Industrial Average and economic turmoil in Italy, Sotheby's contemporary auction netted a whopping $315.8 million, over a high estimate of $270 million, bolstered by impressive returns for Clyfford Still, Joan Mitchell and Dan Flavin, as well as Gerhard Richter and a number of other living artists, and seemingly unhindered by the whistling Teamsters and their supporters just outside the building's glass facade.
Of the 73 lots on offer, only 11 went unsold, for a sell-through rate of 85 percent by lot. It was the highest total for a post-war and contemporary sale at Sotheby's since May 2008, the height of the market boom.
The excitement began early on with the four Stills, which earned $114 million as a group (well above their collective high estimate of $71.5 million), a sum that went toward the endowment of the Clyfford Still Museum in Denver, Colorado. (Still's family watched from a box over the auction room, tense during the bidding). The very first work on offer resulted in an eight-minute bidding war between private dealer Christopher Eykyn, on a cell phone, and Sotheby's Chairman of North and South America Lisa Dennison, also representing a phone bidder.
"Are you leaning back?" Auctioneer Tobias Meyer asked Ms. Dennison during a lull.
"I am not leaning back," she responded and immediately registered a new number on behalf of her bidder. "It's $51 million."
The work, 1949-A-No.1 (1949), eventually went to Ms. Dennison's phone bidder, and set a new record for the artist at $61.7 million. The same bidder appeared to buy another Still, two lots later, which sold for $19.7 million. The previous record for a Clyfford Still at auction was the $21.3 million achieved in November 2006, at Christie's New York, for another 1940s picture, 1947-R-No. 1 (1947).
Another record was set, for Joan Mitchell, with a brightly colored untitled painting from circa 1960, at $9.3 million. The private collector selling it bought it at Christie's New York, in May 2007, for $3.2 million. The record-breaking Mitchell sold to the same bidder who bought the two Clyfford Stills mentioned above. The previous record for Mitchell was $7 million achieved by a 1971 painting at Christie's Paris in May, 2007, when the art market was at its peak.
And yet another artist record was set with Dan Flavin, for his Four Red Horizontals (to Sonja) of 1963, an artwork made with red fluorescent light tubes, which sold for $1.7 million. Flavin's world auction record until tonight was for a white fluorescent tube piece, one of his Monuments to V. Tatlin, which made $1.5 million at Sotheby's New York in May 2008.
There were also impressive results for living artists. The headliner among them was Gerhard Richter, who raked in $74 million for the house this evening, with eight abstract works selling, predominantly to anonymous bidders bidding over the phone with Sotheby's representatives (two bought by the same phone bidder with specialist Alex Rotter, with dealer Christophe Van de Weghe an underbidder in both cases). The Richters had been expected to fetch less than half that result, just $36.7 million.
As reported by The Economist recently, citing the Artnet price database, $76.9 million worth of Richters were sold at auction in 2010, more than any other living artist. Until this evening, according to Artnet, over $123 million of his work has sold in 2011, bringing his new total for 2011 to $197 million. A major retrospective of the artist recently opened at Tate Modern in London.
One of this evening's Richter paintings, Abstraktes Bild (1997), set a new world auction record for the artist of $20.8 million. The previous record for an abstract painting by Mr. Richter was the $15.2 million achieved at Sotheby's New York in May 2008, for a 1990 painting titled Abstraktes Bild, which, according to The Economist, sold to the Russian billionaire Roman Abramovich. (The record for a representational painting by Mr. Richter is the $16.5 million achieved at Christie's London, last month, for one of his paintings of a candle, the 1982 work Kerze (Candle).)