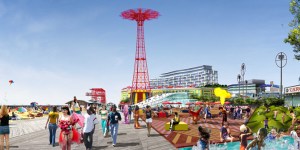 The redevelopment of Coney Island relentlessly marches on, a carney hopped up on Disney dreams. Today, the city began work on Steeplechase Plaza, the 2.2-acre open space at the base of the iconic Parachute Jump and one of the city's signature commitments along the Boardwalk. The park will be located on the site of the former Steeplechase Amusement Park, demolished by Fred Trump in 1966, after he failed in a rezoning bid for residential uses.
To a generation of New Yorkers, Coney Island has represented an eerie ghetto just as much as an amusement park. Weekend trains en route to the fabled amusement park are just as likely to contain hipsters eager to make use of their Diana cameras, as groups of families.
Even so, attendance figures don't lie, and this past summer, when new roller coasters opened, saw new record attendances for recent years, and it is the hope of the powers that be that a new development at the iconic Steeplechase can increase the profile and reputation even further. "The construction of this new open space marks another major investment that will help continue the rebirth and eventually lead to the transformation of Coney Island into a year-round destination," Mayor Michael Bloomberg said in a statement.
Steeplechase Plaza will house Coney's very last remaining carousel, the B&B, saved by the city in 2005. The other historic carousels have all ended up in various hotels and casino's in Las Vegas, if you must know. The Plaza will also act as a western entryway to the amusement district. Once completed, pedestrians will be able to walk directly underneath the old Parachute Jump, and gain entry into the amusement park proper.
This latest initiative is part of a more general collective—sometimes disparate—effort to clean up Coney, bringing together developers and amusement  groups, often at odds but unhappily cooperating, all as part of the 'Coney Island Revitalization Plan'. In the news most recently was amusement giant Central Amusement International, who are forcing their eateries to clean up or face eviction. Unless CAI can't find anyone better, in which case they can stay.
The symbolism brought by a vibrant Coney Island is not lost on Council Speaker Christine Quinn. "It's projects like this that are getting our economy back on the right track and helping beautify one of our city's most historic and memorable destinations," she said. Cotton candy as economic stimulus.
The Mayor was keen too, to emphasize the economic stimulus that the development will bring "The rebirth of Coney Island has created hundreds of jobs for New Yorkers and contributed millions to the city's economy," he said.
realestate@observer.com