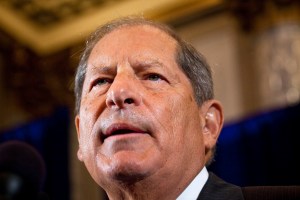 Mayor Bloomberg has taken a lot of heat from elected officials for his raid on the Occupy Wall Street protest encampment in Zuccotti Park Tuesday, but at least one New York lawmaker thinks he did a bang up job. Republican Congressman Bob Turner released a statement yesterday applauding the Mayor for clearing the protesters from the park.
"As a member of Congress and lifelong New Yorker, I would like to commend Mayor Bloomberg for standing up for the residents and small business owners who live and work around Zuccotti Park. I am a firm believer in the First Amendment and support giving people the opportunity to protest. However, the Occupy Wall Street protests had become a threat to the safety and well being to others in the area," Congressman Turner said.
Congressman Turner said the protests plagued residents of Lower Manhattan with "constant noise, unhealthy environment and increasingly unsafe conditions" that were a threat to quality of life and the city economy.
"The actions taken by Mayor Bloomberg will allow residents to return to normal living conditions and businesses to get back to creating jobs," Congressman Turner said.
Congressman Turner, who won the special election in September to fill disgraced Congressman Anthony Weiner's seat in New York's 9th Congressional District,. Though his district is located far from the financial district in South Brooklyn and Queens, the outspoken conservative Congressman hasn't been shy about weighing in on issues affecting the rest of the city and the world at large since he took office.