Curbside fare payment machines along 34th street? What will they dream up next? To the delight of bus drivers and passengers alike, Mayor Bloomberg and his rabble rousing Department of transportation commissioner Janette Sadik-Khan implemented the next phase of operation Select Bus Service on 34th street earlier today.
The new machines, as well as a ban on unauthorized vehicles in the pre-existing bus lanes, aim to cut transit times for the 33,000 passengers who use the corridor daily. Phase one of said ambitious undertaking began three years ago and has been challenged by skeptical locals ever since. In an unusually busy slice of street where it's actually faster to walk than catch a traditionally sluggish M.T.A. lift, concerned storeowners and residents wondered whether the addition of curbside payment machines would really be worth their weight in quarters. DOT, however, stands behind the new additions. Literally. Just this morning, the mayor himself, greeted a.m. commuters front of a new machine at 34th Street and Eighth Avenue.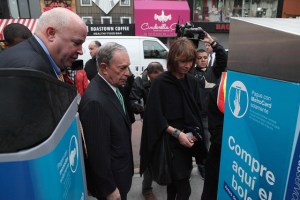 "Select Bus Service has improved travel times and increased ridership in the Bronx and on Manhattan's East Side" said Commissioner Sadik-Khan in a press release. "We're bringing the full package of improvements to 34th Street to create a bus network that New Yorkers can depend on."
Might this be the next miracle on 34th Street? Select bus service has already been implemented with success on Fordham Road in the Bronx and on the East Side of Manhattan, with another route planned for Nostrand Avenue in Brooklyn for next year. The mayor announced today that the new lines on First and Second avenues, which have been in operation for about a year, saw an 18 percent increase in travel times, a 9 percent bump in ridership and a 36 percent drop in boarding times. Furthermore, accidents fell 21 percent on the most developed stretch of the bus way, where buses, cars and bikes are all separated from one another.
realestate@observer.com