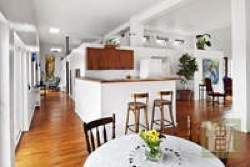 The very notions of "green" and "penthouse" seem to be at odds. When considering  the lifestyle one expects from a penthouse resident, eco-friendly is certainly not the first quality that comes to mind, being up in the clouds as the owner is. Leave it to an artist to reconcile the two! Actor/artist to be precise. Carson Grant has sold his environmentally conscious penthouse at 255 West 90th Street.
While you may not have heard of Carson Grant, the penthouse listing plugs his ostensible pedigree. "CELEBRITY PENTHOUSE/NOW: $2.1M!," begins the listing from Halstead broker Patrycia Harbison. In addition to acting in  such timeless titles as and Smiles and the Sex Bunny, Mr. Grant has been an outspoken environmentalist, even creating an interactive 30′ by 40′  "Mother Earth's Uterus" complete with damaged fallopian tubes representing nuclear contamination. Did we mention that he's the vice president of the Guild of Italian American actors? How could you have missed this guy?!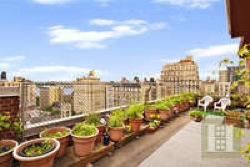 Mr. Grant recently plopped the penthouse down atop the prewar Cornwall building, constructing it himself—after you make your own vulva, is there anything you can't do? According to a write up on the property, the three-bedroom, 2-bath duplex has solar lighting and various other eco-conscious trappings. Apparently that wasn't a big selling point, as the Halstead listing barely makes mention of the Al Gore-caliber details.
The outdoor space, however, is featured prominently. And rightfully so. With over 2,100 square feet of outdoor space, the terrace is one of the home's most appealing features. Currently, Mr. Grant grows berries and perennials on the terrace which play host to flocks of morning doves and bumblebees. While it may not be Mother Earth's uterus, it will suffice for city living.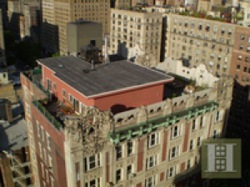 Originally listed in 2010 for $2.995 million, Mr. Carson apparently overestimated New Yorkers' love of nature. After the ask was repeatedly chopped over a year and a half, the place finally sold for $1.725 million, according to city records.
The place was purchased by Christine Raglan, a corporate lawyer. The Observer spoke to Ms. Raglan about the space which she described as "weird but incredible." She says that while the roof is impressive, it needs significant work. "That's my first project," she said. Ultimately she plans to install a tub, outdoor shower and grill on the massive terrace, but until then she will have to satisfy herself with the company of birds and bees.
eknutsen@observer.com