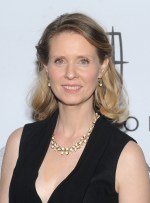 Public Advocate Bill de Blasio hosted a fundraiser earlier this week at the Griffin in NYC's Meatpacking district.
According to Mr. de Blasio's fundraising staff, over 200 people were in attendance, among them actress Cynthia Nixon, who told the crowd that she backed the public advocate for mayor.
"For every reason—as a woman, as a gay person, as a public school parent, as a progressive—I want to see Bill de Blasio as the next Mayor of New York City," said Ms. Nixon. "I want to wake up and find that that's true, and get to love my city in a whole new way—because Bill de Blasio is a great city councilmember, he's a great Public Advocate and he will be one of the greatest mayors that New York has ever had."
Christine Marinoni, Ms. Nixon's partner, agreed, saying that while working on education issues, "he was always our first phone call. He would talk, he would sit with us, he would intricately map out a brilliant strategy.  He never hesitated to use his bully pulpit to send out the right message."
The organizers declined to say how much was raised, but said that over 200 people attended and that the ticket price was $175.
The invitation is pasted below:
New York City Public Advocate
Bill de Blasio
with special guests
Cynthia Nixon
&
Christine Marinoni
Host Committee
Gianluca Galletto € Sean Andrews € Joe Douek € Arnie Segarra
Eric Colchamiro € Kiki Karamintzas€ Chris Reda € Mark Peters € Peter
Rebenwurzel
Susan Rifkin € Brad Gerstman € David Schwartz € Jules Fleischer € Norman
Seabrook € Herbert Block€ Matthew Hiltzick € Suzanne Peters € Leslie
Beller €Gabrielle Fialkoff
€ Frank Gooden € Rachel Amar € Bridget Siegel
‹Event Committee in Formation‹
Monday, November 14, 2011
6:00PM ­ 8:00PM
The Griffin
50 Gansevoort Street
New York, NY 10014