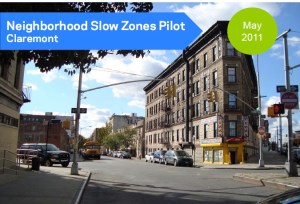 Have you ever driven down a street New York City and thought to yourself, "If only we could reduce the speed limit here by 10 miles per hour?"
Probably not. And despite a similar program in place in London and New Jersey, the roll-out of the city's first "Slow Zones" today in the Bronx doesn't foretell a fast-tracked future for the project.
According to the New York City's Department of Transportation website:
Slow Zones are…a community-based program that reduces the speed limit from 30 mph to 20 mph and adds safety measures within a select area in order to change driver behavior.

(They) are established in small, self-contained areas that consist primarily of local streets. Signs and gateways announce the presence of a Slow Zone. The Zone itself is a self-enforcing, reduced-speed area with speed bumps, markings and other traffic calming treatments. Implementing Neighborhood Slow Zone safety treatments can result in the loss of some on-street parking.

DOT creates slow zones in response to applications from communities. After each round of applications, DOT selects appropriate location(s) and works with the community to devise a plan to install the Slow Zone. Slow Zones must be approved by the local Community Board.
We could see this program working in other boroughs. (Bronx Borough President Ruben Diaz officiated over the city's first 20 M.P.H. zone today.) But we wonder about the possible benefits  self-policing "slow zones" would have in Manhattan, where traffic is usually at a stand-still for most of the day and the lack of available parking spaces already poses a problem for drivers.
Seth Solomonow, DOT's press secretary, told The New York Observer by phone: "It's a new program, so we're not sure what kind of responses we will get back, but we are considering every borough, and we are looking for parity."
So don't worry about reducing your speeding yet: the introduction of Slow Zones to New York City is, so far, slow-going. It's doubtful they will be slowing your race down the West Side Highway, but if you feel like they might be beneficial on Mott Street, DOT is happy to take it under consideration.