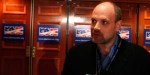 "Absolutely not," he tells CNN's American Morning today.
"The action was handled absolutely professionally, there were no significant injuries, unlike Oakland where you had rioting–none of that happened here. This was exactly the right thing to do."
Mr. Wolfson, who serves as Mayor Bloomberg's first deputy mayor of communications, was then asked about complaints from the New York Press Club that reporters were kept away from the action on Monday.
"Standard operating procedure in this city…in the middle of an active, ongoing police operation you don't have reporters along," he said. "This is not an episode of 'Cops.'"